AARF (Anguilla Animal Rescue Foundation) has had a recent influx of puppies available for adoption.  We're passing along this information from them. Click on photos for larger version of images.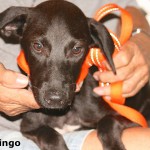 We have some very nice puppies at the AARF Adoption Centre and Shelter who are waiting for you to come and meet them.
Bingo is a male around four months old, very nice and easy to be with.  He is on the shy side and enjoys loving attention.  Bingo is learning how to walk on a leash.
Spam, Siri, and Zip are sisters, playful and full of puppy energy and ready for their forever homes.
Tap and Sync are females around two months old.  Someone dropped them off at the dump and fortunately they were quickly found and brought to the shelter where they are available for adoption.
Bing is a beautiful girl around 11 weeks of age.  She looks like she might be part lab…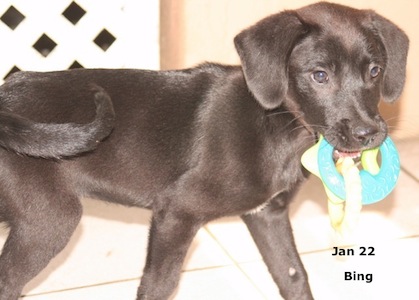 Information about Adoptions
The adoption fee for puppies is $25.  That includes their first vaccination and deworming, $10 off their second and third vaccinations (they need a series of three to be protected from common and serious diseases), and their spay/neuter surgery when they are around six months old.  The AARF Adoption Centre and Shelter is located within Morlens Veterinary Clinic near the Sandy Hill roundabout.  For directions, see our website, www.aarf.ai.
The shelter and adoption centre will be open this week Monday, Tuesday, Wednesday, and Friday from 9:30-12:30 and 3:30-5:00.  We expect to be open on Saturday from 9:30-12:30 but it's best to call first (264.581.4600).  We will be closed on Thursday.  We invite you to come and meet all of our puppies.  We don't have any kittens right now but we will be happy to take your contact information and let you know when some are available.
Can't Adopt but Want to Help?
If you are flying to the Northeast you can help get puppies to loving forever homes by taking them to one of our adoptive families or rescue friends.  You will be saving a very precious life.  All you have to do is take the puppy with you in the cabin of your plane, where she will sit in her soft carrier under the seat in front of you.
You will be met at the airport by one of our rescue partners or by the adoptive family.  All of the puppy's expenses will be covered.  It's fun to travel with a puppy, you'll have lots of admiring fellow travelers coming to talk to you, and you will be a very significant part of the puppy's future.
If you are flying from Anguilla or St. Maarten and can take a puppy with you, or if you would like more information about the process, send us an email at [email protected] or call us on the shelter phone at 476.2731.  This is extremely important rescue work that you can do with very little effort, and have a life changing impact.
Our current needs are flights to Boston, Hartford, Providence, Newark, New York, Philadelphia, Toronto and other airports within driving distance.  If you are flying to another location, we may also be able to find someone at your home airport to help.  We've recently put some happy travel photos on our website's home page, check them out at www.aarf.ai.
Please Spread the Word
Spread the word about our puppies, kittens, dogs, and cats through social media, when you meet people on the beach, however you can.  There are a lot of visitors to Anguilla who do not know about AARF and our need for adoptions and transports, and who would be happy to help once they became aware.
Note From Ken
Cute, cute, cute. And it looks like someone at AARF went "techie" naming these gorgeous little puppies… Bing, Zip, Spam, Siri, Sync, Tap. Where's Google? 😉
Take an Anguillian puppy home. You'll have a loving and loyal reminder of Anguilla forever AND save a life at the same time.