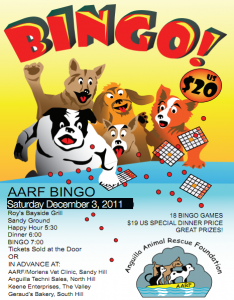 It's that time of year again!
AARF Bingo is happening on Saturday December 3rd at Roy's Bayside Grill on Sandy Ground.
Happy hour starts at 5:30pm, dinner at 6:00, and Bingo at 7:00!
Tickets ($18 USD for Bingo games and $19 USD for dinner) can be purchased in advance at AARF/Morlens Clinic, Anguilla Techni Sales, Keene Enterprises, or Geraud's Bakery.
All proceeds go to helping AARF's adorable puppies and kittens.
Sounds like a lot of fun, wish I could be there!!