In its heyday of the late 90's, News.ai was literally "Anguilla on the Web."  It was the go-to source for everything about Anguilla. The most charming part of News.ai, though, was its extensive coverage of "the little news."
It covered everything from the announcement of a new summer camp to Steel drum West Indies night. "Big news" might be on the order of the re-opening of Palm Grove after Hurricane Lenny. No news was too small, as this example about an 18-year old making model boats shows.
In short, News.ai gave you everything about Anguilla, including the kitchen sink!  The news could be commercial or not. Club meetings, bodybuilding event or a local cricket match…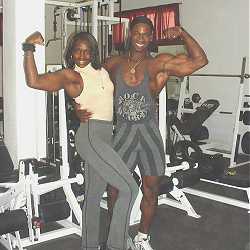 News.ai covered it all, all the small news that was fit to post…
Farmers' offerings
Carnival
Music festivals
Anguilla slang
Recipes
El Gelaterooo (mobile Anguilla Ice Cream emporium)
Police Week Fashion Show
Fundraisers
The rope at Little Bay
New scuba shops
Art shows
Where bands are playing
If it was Anguillian, and if it was news, it made it into News.ai!
I can remember how my Dad anxiously awaited the latest edition of News.ai…
He would call Nori and me
when he thought there was something interesting for us.
Nowadays, you don't have to check a site to see what's new.
You can subscribe to it and be informed of anything new. To subscribe, please click the "Subscribe" button (top of the left column on this page). And then choose how you want to subscribe to it.
In  the 6 years since News.ai has not published, the Web has grown. But no site has sprung up to keep the constant flow of "little news" coming.
The New News.ai Carries On The Tradition
News.ai brings the "real Anguilla" to everyone on the island…  and to the world.
No matter how "small" or "unimportant" you may think your news is, it's not.  Someone will find it interesting. Folks will attend. Others will help. Some will contribute. You just have to let them know.
It's easy and it's free to get wide exposure in News.ai. Here's how.
Simply send the following to [email protected]…
a few paragraphs, no more no 500 words (200-300 should usually cover it — include when, what, where, and how to get there if needed)
a photo or 2 to grab your readers' interest
contact information  — add name, phone, e-mail, website, facebook page at the end.
Not only will your story or news be posted on News.ai, it will also be shared by our sister site, Anguilla-Beaches.com.  Anguilla-Beaches.com reaches 1,000,000+ visitors per year around the world, and has over 10,000 people who subscribe to its e-zine or follow it at Facebook, etc.
Together with News.ai's still-susbtantial traffic, your announcement will get out.
Who Are The People Who Run News.Ai?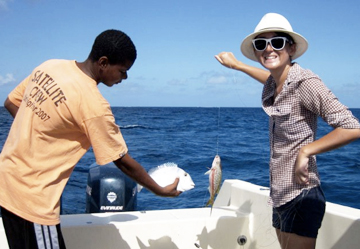 My name is Yuki Evoy (pictured here with friend Rumple and unlucky fish).
I am a 20-year old student who goes to the Fashion Institute of Technology (FIT) in New York City. Curiously, Manhattan is an island that is about the same size as Anguilla. It has a few million more people, though. 😉
You may already know my sister, Nori, from Anguilla-Beaches.com, as well as the rest of our famly.
We live in Anguilla in the summer months, for the Christmas month and every holiday possible.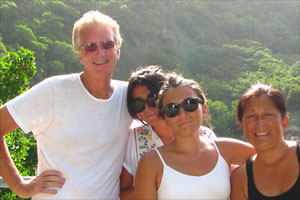 My Mom (Janice) and Dad (Ken) decided to move down here after facing one too many winters.
They say they've never felt so free.
Both Mom and Dad will be helping me out with News.ai, especially around exam time!
And with the additional distribution power of Nori's Anguilla-Beaches.com, we hope to spread your news far and wide.
We Love Living In Anguilla. It's Our Home.
News.ai is our attempt to give back to the people who have made us feel welcome and safe.
Together with Anguilla-Beaches.com we hope to spread word of  Anguillian activities on the island (tourist-oriented or not) to other islands, yes, but also around the world.
If you are a subscriber to News.ai, I hope you enjoy it. If you are not yet a subscriber…
To subscribe, please click the "Subscribe" button (top of the left column on this page). And then choose how you want to subscribe to it.
If you post your news here, I'm sure you'll find it helps you generate more attention and reaction to whatever you may be doing. It's as easy as sending in a few paragraphs, a photo or two and your contact information to [email protected].
We'll do all the rest.  No need to thank anyone. Just pay it forward and tell a friend. If we can help spread your message, it's our thanks to you.
Warm regards from Yuki and the rest of the Evoy family. 🙂