Open to the night sky, with colorful, hanging string lights, every night at Roy's is pure delight!
With the stars above and the sea just a few yards away, the atmosphere at Roy's is always relaxing.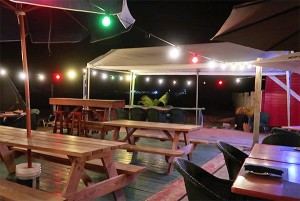 Dinner begins with an extra-special touch… piping hot Johnny cake crunch!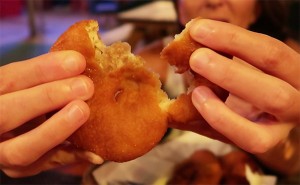 What's for dinner?
Roy's has long been our favorite for fish & chips. Heavenly-crisp batter gently envelops the ultra-fresh snapper. With hand-cut fries and tartar sauce on the side, it's a meal we could eat for the rest of time.
Since discovering another menu item, though, "deciding" at Roy's has become harder than ever. 😉
Roy's extra-succulent, perfectly prepared steaks never fail to call our name!
My Dad always goes for the 16 oz. rib eye. I'm partial to the steak kebabs, with chunks of juicy, peppery steak and thick slices of grilled veggies including mushrooms, onions and red peppers.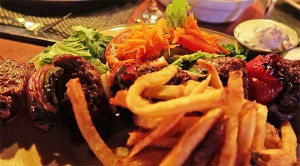 The entire dish comes with your choice of sides, including rice and peas, scalloped potatoes and veggies. I always opt for the famous hand-cut fries and a fresh side salad (the ranch dressing is oh-so-creamy and even makes for a decadent dipping sauce).
A hit every time!
Roy's is open for breakfast, lunch and dinner Tuesday-Sunday.