Cap Juluca's Maunday's Club has become a favorite for sunsets, cocktails and Peruvian tapas bites. What's on the tapas menu now? Here's what Chef has in store…
First up, the "Vegetables and Zucchini Sandwich."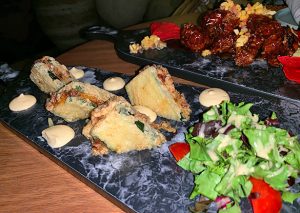 Minced vegetables are layered with tomato sauce, parmesan cheese and sesame seed oil. It is all enclosed by slices of zucchini. These mini sandwiches are served with a sweet mayo sauce and a side salad.
Next, the "Mini-Crab Cakes"…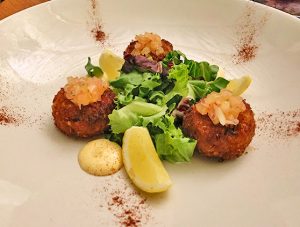 These crab cakes are the perfect combination of crispy on the outside and soft and tender on the inside. Topped with a traditional Peruvian chalaquita chili salsa, a hint of sweetness comes through with each bite. This dish comes plated on a bed of mixed greens and is served with dollops of a yellow chili aioli.
Finally, no tapas menu is complete without chicken wings!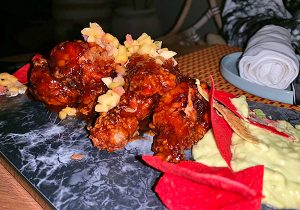 Maunday's Club is open daily. Bar 9am-11pm, Lunch 11am-5pm and Dinner 6:30-9:30pm.
Belmond Cap Juluca will be closing for the season on the 31st of August.