News.ai was the first and only web presence for Anguilla through the mid and late 1990's. Bob Green, the founder, started the site accidentally.  It all began shortly after Hurricane Luis in 1995.
Luis battered Anguilla at Cat5 ferocity for 36 hours. It flattened Anguilla. Bob was fortunate to have access to a T1 line, the only Net access remaining.  While the rest of the powerless island sweltered, Bob froze while working from an air-conditioned server room (powered by generator).
E-mail updates from Bob to the outside world  became web page updates (at first on his own company's website). These words to the outside world became news.ai!  Imagine, out of devastation, Anguilla was given its first presence on the Web.
News.ai soon became a family of sites… beaches.ai, hotels.ai and so forth (see "Anguilla 1995-2005" in left margin).  Be sure to check out the huge resource of photographs from that era ("Photo of the Day" in left margin — fun!).
Bob actively maintained this growing family of sites, thousands of pages and photos until 2005.  By that time, other sites had appeared and grew to carry the e-torch.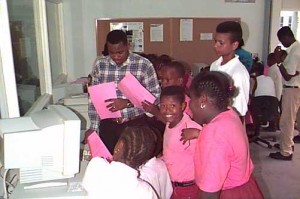 Bob not only put enormous hours into growing an invaluable representation of  Anguilla's first decade online, he also ran the Computer Club for kids.
He enjoyed getting into various forms other e-ventures and mischief with Vince Cate, all with no expectations of recompense. He has so many crazy "early days of the Web stories."
Most importantly, Bob has given us this remarkable peek at Anguilla, for us all to enjoy forever…
The archives (and his final post) are here.  These pages stand as a unique 10 year history of Anguilla's e-history, seen through the eyes of one Canadian who had moved from one tiny island off the West Coast of Canada to another one in the Caribbean, neither of which had many people ever heard. As just two small examples…
Below (left) is a photo of Sandy Ground in 1996 (note the absence of villas in North Hill), followed by Meads Bay from the same year (below right).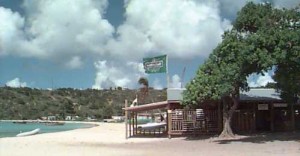 Anguilla has changed a great deal. No one can argue the benefits that Anguilla has seen over the years.
But it is natural too, to lament the passing of a different time.
Anguilla had been changing from 1980 to 1995, a special post-independence period in itself that can only be captured by oral history and analog photograpy.
Anguilla's advancement accelerated from 1996 to 2005.
Bob has captured those pivotal years of change through the Web and the earliest of digital photographs.
For that, we owe him a debt of thanks.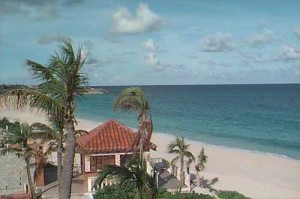 Bob is one-of-a-kind.
His mind flies in 1,000,000 directions at the same time.  At times, his attention span seems measurable only in nano-seconds.  😉
He's constantly onto the next thing.
If you know him, you marvel that News.ai (and its family of associated sites) could manage to sustain his attention for 10 years. It is great testimony to his love of the island, and to th power of the island to enrapture him to put so much energy into News.ai.
We thank him for passing this torch to us, to keep the history alive and to revive what he did going forward, in a local way, in service of both Anguillians and visitors to this island.
We will try to do it justice as we strive to make this a useful resource for all.