Excellent news from Tradewind Aviation, Anguilla's premier airline that flies between San Juan and Anguilla!…
You can now book online with your Anguilla Card.
Simply navigate to Tradewind's website at…
Scroll down to "Book By The Seat"…


Enter your travel info and click "Search Flights."
On the next page, make sure everything looks right and then enter the NEW promo code in the bottom left…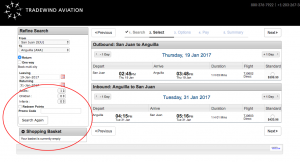 The promo code is: AXACARD
Once you have confirmed your booking, email…
… with the digital copy of your Anguilla Card.
The 10% Anguilla Card discount will be applied.
It's as simple as that 🙂
Tradewind Aviation flies to Anguilla daily. Refer to schedule below for flight schedule.
9:50AM depart SJU — 10:40AM arrive AXA
11:15AM depart AXA — 12:05pm arrive SJU
2:30pm depart SJU — 3:20pm arrive AXA
4:00pm depart AXA — 4:50pm arrive SJU