If you're in a pinch for dinner like I was today-  Geraud's in South Hill offers a variety of delicious quiches.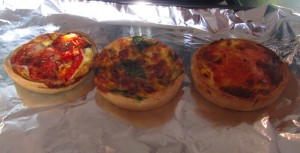 While I was running errands, I stopped in at Geraud's for a refreshing iced latte.  I couldn't stop staring at their quiches, and decided to get a few for dinner.
After long queues at the post office and wrangling up puppies at AARF, I was glad to simply pop the quiches into the oven at 325°F and have dinner in 15 minutes.
We tried salmon, tomato and goat cheese, spinach and feta, and the quiche Lorraine (not pictured).  With a side salad, they made a perfect quick dinner for under $8/each.