George Reid and Jordel Gumbs, chefs from Viceroy tantalized more than 600 experts at the Chef & Champagne New York  James Beard Gala.  Their menu included Yuzu-Marinated Conch and Grilled Blue Prawn Escabèche with Mango, Pear, Apple, Mint, and Sweet Chile Relish.
"It was an honor to represent Anguilla at such a fine event, among exceptional colleagues in the industry" said chef Reid.
Chefs & Champagne is James Beard Foundation's annual event.  It includes a dinner from a selection of more than 30 exquisite chefs.  Chef Emeril Lagasse was this year's honoree.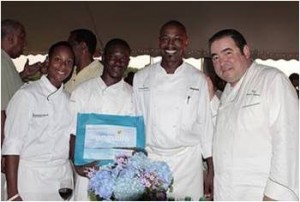 Emeril Lagasse owns 12 restaurants and has written 15 cookbooks.  In addition to those endeavors, Lagasse also has his own TV show- Emeril Live.
At the event, local Hamptonites had the chance to enter a raffle for a stay at Viceroy.  The winner and his wife had been to Viceroy Anguilla before and were thrilled to be able to go back.
The only Caribbean island that has been showcased for the past three years at the Chef & Champagne event is Anguilla.  Between Anguilla's chefs, the tourist board, and the Hamptonites, Anguilla is becoming more and more the Caribbean destination.