Anguilla-Weather.com reports Tropical storm Ophelia will reach Anguilla Saturday night, Monday morning.
The forecasted winds of 40 mph or so will be to the north of center along with thunderstorms.
It is not expected to escalate into a hurricane.
Of course, with several days to go, the storm track and severity could deviate considerably.
Steve also says that we've had record rainfall in 3 of the past 4 months.
That must be why my Dad's so worried about his cactus collection!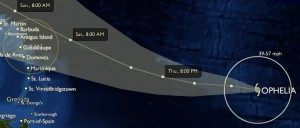 As Anguilla-Beaches.com points out on this page about Anguilla weather in August and September, things could be worse.
Bottom line… unless matters start intensifying, expect nothing more than some heavy rain and wind over the weekend.
I will update if matters do start to look worse.
Stay dry.