Tuesday Night Happy Hour starts at 6:30pm and will feature Chef Dale's signature $10 crayfish, $7 mojito and $5 rum punch.
Call to book your reservation: 264-584-2737
You can also get Tasty's NEW stuffed Johnny cakes from the "grab & go" menu. Available for take out only, our mouths are watering just looking at these beautiful treats!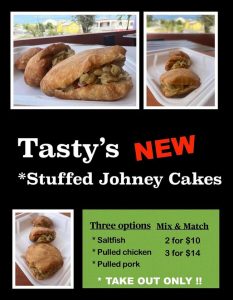 For a full read on Tasty's…
https://www.anguilla-beaches.com/anguilla-restaurant-tastys.html