If you're in Anguilla on December 29th, here's a one-of-a-kind event that belongs on your "don't miss" list…
The Pumphouse is inaugurating its 1st Annual DaddyRoots Reggae Fest on Sunday, December 29th, 2013. If you're into reggae, this is the place to be. If you've yet to discover the joy of its rhythms and lyrics, it's also THE time to learn!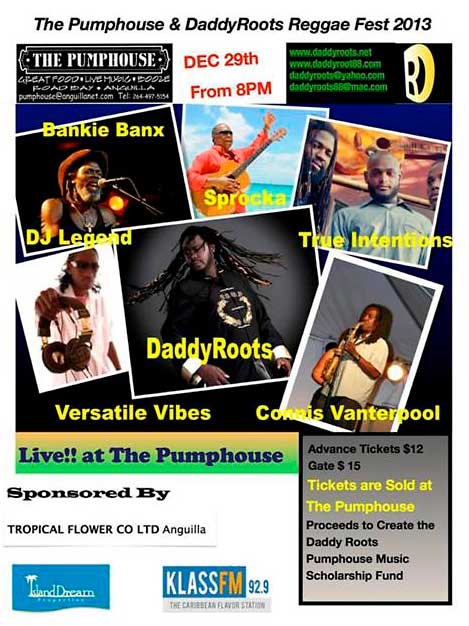 DaddyRoots, world-famous reggae artist, is the headliner. But check out the poster to see the all-star lineup of local reggae musicians…
Bankie Banx, DJ Legend, True Intentions, Sprocka, Versatile Vibes, Connis Vanterpool.
This is a festival that is full of headliners! No doubt, this is going to be one unforgettable, fest of an event during this festive season.
And, in the spirit of festive giving, a portion of the proceeds from ticket sales goes to "The DaddyRoots & The Pumphouse Music Scholarship Fund." Proceeds from the fund go toward a young, local and highly talented musician to further his/her studies in the musical field.
Judges from Anguilla and Los Angeles select the deserving recipient. So spread the good tidings. Tell your your friends, tell your families!
Reggae fanatic or novice, head for the Pumphouse on the 29th.
DaddyRoots' Roots
Born in Anguilla, DaddyRoots was a regular performer at The Pumphouse before making a name for himself internationally. He went on to thrill audiences in the Caribbean, Africa, Asia, Europe and North America.
His music has been chosen for numerous films, including the movies "On Falling", "Broken Flowers" starring Bill Murray and the BBC Lifetime Movie "The Fugitive". Three of his songs were chosen for the 2011 Adam Sandler and Jennifer Aniston movie, "Just Go With it".
Winner of Best Reggae Male Vocalist in the 2006 L.A. Music Awards, Daddy Roots has also been nominated for a host of other awards including the Hollywood's HMMAwards in 2012 for Best Reggae Song, "Sunshine."
Be There or Be Square
This is going to be the type of show where you'll be excited to say, "We were there." Doubtless, like Woodstock, there'll be many more making that claim who can fit in The Pumphouse.
Advance tickets are only $12 and $15 at the door. For more information or to reserve your tickets (and we suggest doing it fast), call…
264-497-5154 or 264-584-8912
You can reach the Pumphouse, a true Anguilla institution, at its Facebook page and at Twitter.