The Caribbean Hotel Association Education Foundation (CHTAEF) has awarded seven persons in the tourism industry in Anguilla with scholarships.  The scholarships were announced and awarded at a ceremony at Paradise Cove Resort on Friday July 29.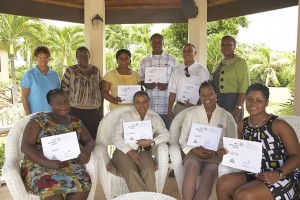 President of the Anguilla Hotel and Tourism Association (AHTA), Sherille Hughes, said she is pleased and proud of the seven Anguillians and thanked the award committee for granting them the opportunity to advance their careers in tourism.  She urged the recipients to make good use of the opportunity o chart their future and reminded them that it will not only contribute to their personal improvement but also to that of their hotel.
Parliamentary Secretary with responsibility for Tourism, Haydn Hughes said he is very proud of the awardees as he himself gained a scholarship in 1998 and it made a tremendous difference to his future.  He pointed out that many countries have the same beaches and sea and good hotels but what sets Anguilla apart is service and professionalism, which he described as of paramount importance.  He urged the students to pass on their knowledge as he congratulated them on their achievements.
Janet Musi of the CHTAEF announced the scholarships, saying that she and the selection committee were very impressed with the high quality of the applications from Anguilla.  She said that the CHTAEF received some one hundred applications in March this year from eighteen Caribbean Countries.  The committee met in May to review and select the awardees and 44 were successful from 14 destinations.
Two of the awardees gained scholarships from Starwood Hotels and Resorts.  They were Jason Ruan who is the first electrical engineer to be supported by the Foundation and Ysael Martinez, both working at Viceroy Resort and Residences.  Taura Maynard from Anacoana Hotel was granted a scholarship by CIBC FirstCaribbean Bank.
The other four awardees will be studying from the Anguilla Community College.  They are Carolyn Daniel and Sheila Harrigan-Davis from Cap Juluca, and Tanya Maynard-Brown and Nathalie Lewis from Viceroy Resort and Residences.
Henley Johnson of CBIC FirstCaribbean said that the bank is very proud to support two of the students and pleased to support the hospitality industry and therefore the development of the region's economy.  He said that the Bank contributes US$60,000.00 in the region for hospitality scholarships.
Garmon Greenaway, a past awardees and Bernard Wattley, Dean of the Anguilla Community College, added their congratulations to the winners of the scholarships urging them to make best use of the opportunity.
"We are very proud of all of you," said Gilda Gumbs-Samuel, Executive Director of the AHTA who chaired the event and thanked everyone for their contribution.