The Anguilla Animal Rescue Foundation (AARF) has new puppies and a kitten for adoption!  There are nine puppies total and one little kitten.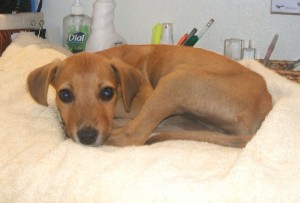 The puppies are paper trained and the kitten is already litter box trained, so they won't make too much of a mess 😉
Look at the little pup shown. I've got to see if I can get my Mom and Dad to take in a 3rd AARF dog!
All 9 are adorable!
The shelter's openings are as follows:
Monday through Friday 9am until 12pm and then 3pm until 5pm, and Saturday 9am until 12pm.
AARF is a truly valuable service to Anguilla…
But did you know that tourists can take one of these charming animals home? It's easy to do. Check in with AARF.
AARF's adoption fee is $25 for puppies and $20 for kittens, which is amazingly cheap when you consider what you get for that price…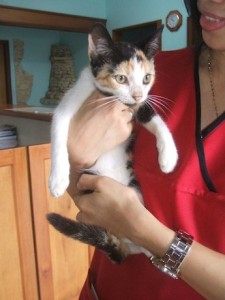 Their first vaccines/deworming
$10 off their second and third shots
Their spay/neuter operation.
These pups and kittens are extremely sweet and playful.
They're ready to go home to a loving family.
If you're a tourist, you may not be aware of the following fact, but you can bring one of these wonderful Anguilla dogs home with you.
Hundreds of tourists have already brought these warm and playful puppies and kittens with them.
Contact AARF for more information.
Their contact information, as well as additional photos of the puppies and kittens, are at AARF.ai.