AARF currently has 7 female puppies, 1 male puppy, and 1 kitten.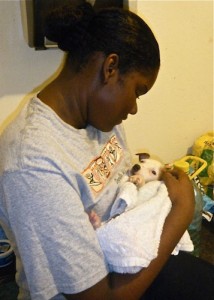 All are ready to go home to a loving family.
Due to the holidays, AARF is only open August 3rd and August 6th during this coming week.
Next week it will resume normal hours…
Open Monday through Friday,
9am until 12pm and then 3pm until 5pm,
and Saturday 9am until 12pm.
Drop in at any time to see the puppies and kitten that are available.
Drop in just to see them. They're adorable!
If you are only visiting the island, documents are available to bring a pet back home. It's easy to do. Many tourists return home with an Anguillian pet!
In case you forgot, AARF's adoption fee is $25 for puppies and $20 for kittens,
This includes…
Their first vaccines/deworming
$10 off their second and third shots
Their spay/neuter operation.