Properties in Paradise, a local firm offering villa management, consulting and staffing services, and the representative for Starkey International Institute of the Caribbean,proudly announces the appointment of Mr. Felix M. Pina as property manager of Ani Villas, Anguilla.
At the recommendation of Properties in Paradise and with full financial support from Ani Villas, Mr. Pina will travel to Denver, Colorado to complete the eight week Starkey Household Manager Course and receive full certification.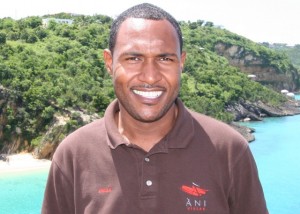 "Properties in Paradise is pleased to place such a qualified professional at the beautiful Ani Villas property and to send the first Anguillian student to the distinguished Starkey International Institute — known for producing the most sophisticated service professionals in the world," said owner Bruce Hearn.
Mr. Pina is an 18 year veteran of the Anguillian service industry and began his career at the world renowned Cap Juluca Resort. Holding positions in the landscaping, water sports and restaurant/food service areas, he worked his way up to supervisor. Accepting every new challenge with enthusiasm, Mr. Pina then completed additional training, and was named villa manager in Cap Juluca's private villa operations, managing service for some of the resort's most distinguished guests and receiving awards for his excellent performance.
Based on his stellar experience with Cap Juluca, Mr. Pina then became assistant villa manager at Cerulean Villa, one of Anguilla's premier luxury properties. With five years of experience at this level of the service industry, he is well prepared for his new position with Ani Villas and brings his love of service to a new level.
"We are proud to appoint an Anguillian to this key position in our organization and look forward to providing this training opportunity to such a talented candidate," says Bonnie Bloom, general manager at Ani Villas. "We are committed to investing in Mr. Pina and his education. We believe certification through the Starkey Institute, in conjunction with training from Properties in Paradise, will equip him to bring villa service and the guest experience to a whole new level on Anguilla."
"With the skills, tools and knowledge acquired at Starkey Institute I hope to share that expertise with my team and the hospitality industry as whole on Anguilla. I am ready to give my time, effort and focus to the Ani Villas, and accept the responsibilities and challenges as well," said Mr. Pina. " I will follow my bliss and always do what I love with a pleasant smile."
For more information about Properties in Paradise and Starkey Caribbean, call 264-235-8840 or email [email protected]
To contact Ani Villas call Karen Walsh 264 497 7888 or go to www.anivillas.com