Inspired by Anguilla's 50th Anniversary, Anguilla Life Magazine together with Tropical Distributors and Angostura, invited bartenders to participate in a special Celebratory Rum Cocktail Competition. Three ladies and four gentlemen from Cap Juluca, CuisinArt, DaVida, Four Seasons, Malliouhana, Straw Hat and Zemi Beach House created colorful concoctions which required Angostura 7 Rum as well as their Bitters as partial ingredients.
The winner, Four Seasons bartender, Joann Phillip, was just announced!
Joann's cocktail, "PASSIONATE" garnered 142 out of 150 points from judges Ron Webster, Lavon Richardson and Jacquie Ruan.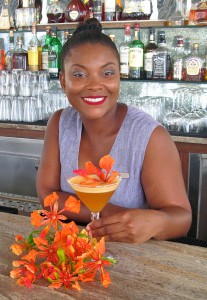 An unusual and refreshing cocktail, it is topped with passionfruit, orange, almond flavored foam and flamboyant flowers.
Creating cocktails is an artistic process for Joann. She starts off by thinking about the appearance, what garnish would be different and eye catching and of course how the flavors balance and work together.
For her, "PASSIONATE" is a true statement of Anguilla's past, present and bright future… a drink created to represent our passion for life. "The golden-orange color symbolizes Anguilla emerging victorious from years of hardship. The foam elevates the presentation but also depicts how Anguilla continues to elevate in unity and strength," Joann explained.
Joann's winning recipe will be detailed in the coming Summer issue of Anguilla Life Magazine.
For a taste of the winning PASSIONATE cocktail, drop into Four Seasons' Sunset Lounge today.