BECAUSE OF PRAYER
by Felecita T. Williams
(an autobiography)
Saturday, September 3, 2011, From 10 AM until 4 PM
Book signing and reading by the visiting author at Coral Reef Bookstore, Little Harbour, Anguilla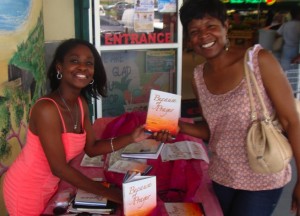 The life of a happy, playful child is suddenly turned upside-down when it is discovered that her kidneys are "not working."
Her parents are told that she will not survive. A minister appears at her hospital bed to say a final prayer. How did it all turn around?
Because of Prayer by Felecita T. Williams is a diary-style story of biosnapshots linked by tremendous pain, family sacrifice and love, and the enduring faith of a life still in progress.
Felecita or "Cita" was born in Philipsburg, St. Maarten, Caribbean.
___________________________
Name: Felecita Williams
Contact: 599-526-4545