CuisinArt's Tokyo Bay recently welcomed their new sushi chef, Joe Richardson.
Formerly of Sushi Samba and BarMASA in Las Vegas, we were eager to see what Chef Joe had in store and started off the weekend with a visit to "Mom's favorite," Tokyo Bay.
The evening began with spicy, wok-tossed, warm edamame beans, topped with garlic flakes and a bottle of hot sake.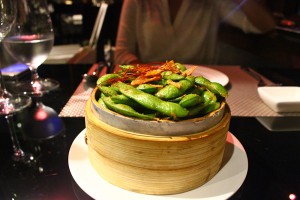 The combination sure heats up your palate!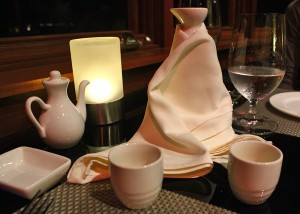 You will still find Tokyo Bay's very best dishes on the menu, including the rock shrimp tempura, coated in a tangy sauce, topped with finely-chopped scallions and cilantro.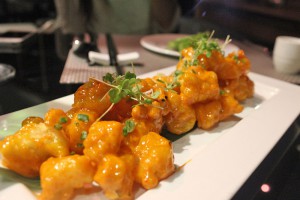 What's different with Chef Joe leading the kitchen?
Everything is even better than before, if you can imagine that!
The Duck Duck Goose Gyoza, for instance, was even finer than I had remembered. The gyoza skin itself (the hardest part to get right) was crunchy-crisp on the bottom and warmly-steamed through the top. The flavors inside? Savory with a touch of sweet.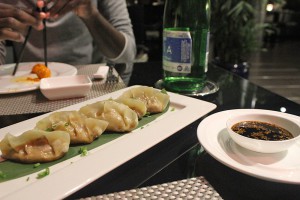 While we stuck to our favorites throughout the evening, a new dish caught our eye as a must-try…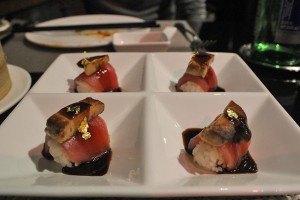 Tuna sushi with foie gras, bathed in an eel sauce. Garnished with gold flakes, it is a glamorous dish, and it tastes as good as it looks. Rich and decadent, with a smokey hint.
Then, it was time for the true test!…
The sushi and sashimi.
First? A few slices of salmon sashimi. Generously cut, they simply melt in your mouth.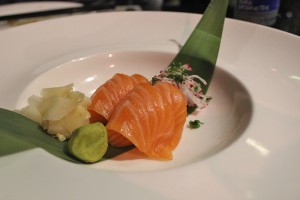 The sushi sampler, including, hamachi, tuna, yellowtail and salmon, were equally excellent and left us with one thought…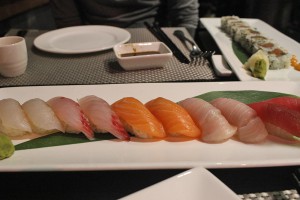 Chef Joe is a true sushi master.
With a few classic rolls to end the evening, including an improved California roll (thicker and with more flavorful crab compared to before)…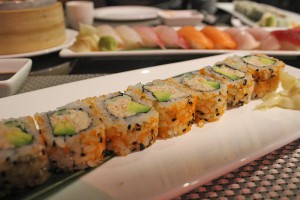 … spicy tuna roll…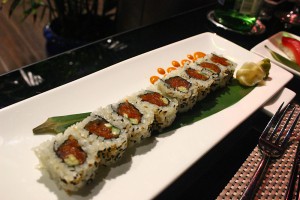 … and, of course, the sweet ending, chocolate sushi.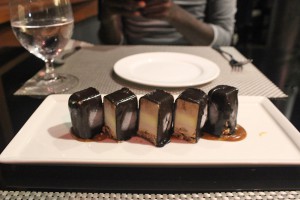 Tokyo Bay has done it again! With Chef Joe, Tokyo Bay remains the #1 restaurant on Anguilla for authentic Japanese dining.
For reservations, call: 264-498-2000