Straw Hat has figured out a way to "kill 2 fish with one stone." Here's their story, as reported by good friend Peter Parles…
"About a year ago we were visited by the Environmental Health Department (EHD) and the Department of Fisheries (DoF) and asked to take a short survey about lionfish, the invasive species that have been multiplying in great numbers and are causing real problems for the fish supply in our local waters. We spoke at length with these government departments and realized that there was a real commitment to do something about trying to control the proliferation of these pests before it became a bigger problem.
As SCUBA divers, Anne and I have been on many dives where the dive master has spent much of our bottom time shooting lionfish and the numbers have increased each time we have been diving. The survey was presented to restaurants in Anguilla and was basically asking about our knowledge of the fish, the problems they are causing and whether we would be willing to use them in the restaurant.
Two weeks ago I received an email from the Anguilla Hotel & tourism Association alerting us of a lionfish seminar that was being presented by the EHD in cooperation with Fadilah Ali, a PhD student from the University of Southampton who is working on her thesis entitled The Lionfish Invasion in the Southern Caribbean. Chef Nick and I spoke about the seminar and Nick attended this past Wednesday.
He came back very excited and started calling fishermen immediately and, we are proud to announce, we served our first lionfish special last night! Everyone who tried it loved it (including Straw Hat staff who were initially afraid to try it at all)."
For more information about lionfish (what they are, how they became a problem, how they taste and what we can do about the problem), click here.
Now let's hear Nick's thoughts, starting you off with some yummy pics…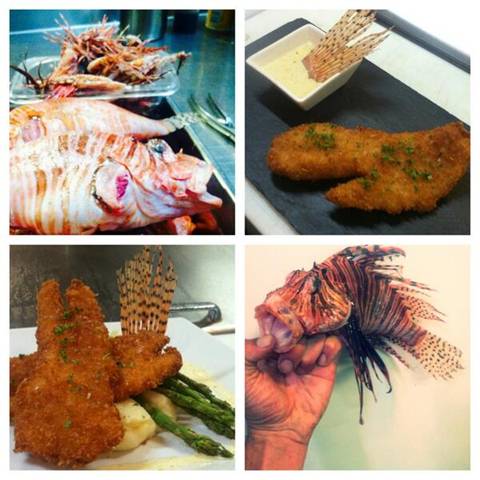 "Lionfish!!
This week I had a unique opportunity to start working with Lionfish. Last night was the first time we served it at Straw Hat and the response was amazing. Despite the myths of the Lionfish being "poisonous," with a little education it is quite delicious and not terribly difficult to work with.
This past Wednesday I was able to attend a class sponsored by the Ministry of Environment and the Department of Fisheries where I was supplied with a wealth of knowledge on this fish. It is a big issue that is growing very quickly.
Lionfish are unique in many ways, one being the way they reproduce. Female Lionfish can lay up to fifteen thousand eggs every three to four days. They're gluttons too, swallowing little fish whole with no regard to any other hungry fish around them.
They don't get full either, and in fact will use the binge and purge tactic to keep eating! They are excellent hunters with bilateral swim valves so they can essentially go side to side to catch even more prey.
So what eats Lionfish?? WE DO!! (that's about it). There are some species of fish in the Indo-Pacific that have been observed preying on lionfish but ultimately most fish will only eat them if they are wounded.
So we have this rapidly reproducing, overeating beast in the sea around us that will take over if we don't do something about it! So we've started.
Last night I cleaned about forty pounds of the fish and will do another forty for tonight. The meat is lovely, a mix between the texture of a small grouper and the sweetness of a red snapper.
The fillets are a nice size and the overall process of cleaning them is not that difficult. It takes a little patience and time, but at this point it is very necessary.
They are as versatile as a snapper. You can fry them whole, bread the filets, steam or grill them. A diving buddy told me of a lionfish pizza he had!
I encourage all of our guests to give it a try. I promise you won't be disappointed. I encourage our colleagues to do the same and if you need a hand or a little assistance in using the fish, feel free to come by for a demo.
Thank you Peter and Ann for starting the ball rolling on this."
To everyone at Straw Hat… great job! If the lion is the "king of the beasts," this species sounds like the "king of the reef fish."
When Nori gets back from New York, we intend to sample "the king"… sounds delicious!
Let's eat our way out of this problem!