The Wall Street Journal reports that Mr. Leandro Rizzuto, owner of CuisinArt Resort & Spa here on Anguilla, is selling Temenos Hotel and Resort for $24 million.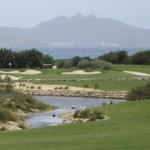 He had bought the complex and the golf course for $15 million in June.  If he does manage to sell the resort and real estate for $24 million, he effectively gets the golf course (which cost $50 million to make) for free and makes a profit of $9 million.
This Anguilla golf course is sensational and it is adjacent to the luxurious CuisinArt Hotel, a strong and free addition to the resort.
The remaining 32 acres and unfinished hotel and villas would need another $95 million to complete. It also comes with legal problems from villa purchasers who have put down millions in deposits (which have apparently been spent by the previous developer).