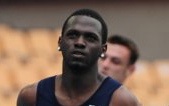 Congratulations to Keiron "Speedie" Rogers, who set an Anguillian record for the 100 meters.
His 10:55 seconds time at the 2011 World Athletics Championships (in Daegu, South Korea) breaks a 20-year record held by Trevor Davis.
Congratulations, too, to coach Wilma Proctor.
Keiron did not proceed to the final rounds in the next heat, but world-class performances recently by "Speedie," Shinelle Proctor (who set a personal best (PB) of 12:89 seconds at the same meet), and 17 year old Dee-Ann Rogers auger well for the future of Anguilla track.
Also, as Anguilla does not have Olympic status, remember to cheer for Shara Proctor who was asked by the UK to join their Olympic team. Anguilla has a medal hopeful for 2012!