Italia Restaurant sparkles with pizazz and excitement as Runway Anguilla rolls out its sizzling summer fashions carpet on Sunday, May 15th, 2016 from 12Noon to 3PM.
Runway Anguilla proudly presents a unique fashion show event – a glorious afternoon of socializing, entertainment, and dining, amidst a display of the Island's top fashions.
Runway Anguilla is raising the bar of this long-anticipated event and will showcase the creative explosive themes of tropical hand-crafted fashion items by a record number of five of Anguilla's premier Fashion Designers, Theochris, Panache Couture, Honey Butter and Cream, 4 NV Couture, and Isabelle Souccar, complimented by a selection of hot summer fashions from two of the Island's top boutiques: CuisinArt Blu and Irie Life.  Entertainment provided by Cuisinart's very own Michael Masci.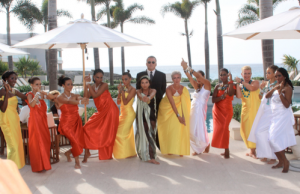 A sumptuous brunch will be generously provided by Platinum Sponsor CuisinArt Golf Resort & Spa.  Stellar repeat supporting headline sponsor is LIME.   Design Anguilla has also provided phenomenal support for which we are very grateful.  Fabulous prizes of hotel stays, dinners, art, spa packages are waiting to be won in the ever popular silent auction. 
Behind the curtain of glamour and excitement lies a beautiful cause – efforts to serve a great need in our community.  All proceeds for this event will be used to assist elderly citizens with medical care and youth in need with educational supplies for school.  
Tickets cost US$50.00 (inclusive of brunch) and are available at The Anguilla Drug Store and Sea Spray.