Italia Restaurant sparkled with pizazz and excitement as Runway Anguilla rolled out its sizzling summer fashions carpet on Sunday, May 15th, 2016.
Runway Anguilla proudly presented a unique fashion show event – a glorious afternoon of socializing, entertainment, and dining, amidst a display of the Island's top fashions.
Runway Anguilla raised the bar of this long-anticipated event and showcased the creative explosive themes of tropical hand-crafted fashion items by a record number of five of Anguilla's premier Fashion Designers, Theochris, Panache Couture, Honey Butter and Cream, 4 NV Couture, and Isabelle Souccar, complimented by a selection of hot summer fashions from two of the Island's top boutiques: CuisinArt Blu and Irie Life. DJ Music provided by Cuisinart's very own Michael Masci.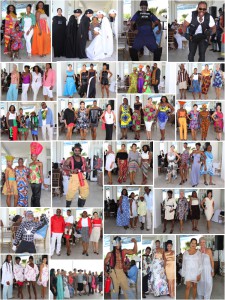 A sumptuous brunch was generously provided by Platinum Sponsor CuisinArt Golf Resort & Spa. Stellar repeat supporting headline sponsor was FLOW. Design Anguilla also provided phenomenal support for which we are very grateful. Fabulous prizes of hotel stays, dinners, art, spa packages were won in the ever popular silent auction.
Behind the curtain of glamour and excitement lies a beautiful cause – efforts to serve a great need in our community. All proceeds for this event will be used to assist elderly citizens with medical care and youth in need with educational supplies for school.
Gratitude is also extended to a host of small businesses and individuals who provided a cadre of solid support for the cause through Silent Auction, Table Sponsor donations and donation of their time and talents.
Silent Auction and Table sponsor donors include:
Anguilla Garden Center, Anguilla Villa Company Ltd., Ani Villas at Little Bay, AXA Yacht Services, Beaches Edge, Black Orchid, Blue Sea Anguilla, Counsel Ltd., Cuisinart Golf Resort & Spa, Design Anguilla, FLOW, Island Dream Properties, Kobbe Design, Lynne Berbaum Studio, MASA, Monster Cycle, Properties in Paradise, Safe Cargo, Sand Bar, Straw Hat, Sunset Homes, The Place/Smokeys, Trophy Properties, Tropical Shipping, Valley Bistro, AnguillaMemories.Com, AXA Watersports/Kitesurfing,
Bijoux, Bridal Affairs, Blue Waters, Cove Castles, CuisinArt Golf Resort & Spa, DaVida's, Dolce Vita, Hibernia, JaCala, LeBar, Irie Life, Limin' Boutique, Malliouhana Hotel, Mango's, Meze, Roy's, Sandy Island, Shoal Bay Villas, Tradewind Aviation,Traditional Sailing Charters, Zambezi and Zemi Beach Hotel.
Fabulous door prizes were provided by Straw Hat, Black Orchid and Bamboo Beer Hut.
Special thanks to Larissa Gumbs, Amasha Richards, Nails R Hair, Carolyn Tronin for providing the hair and make-up support for all models and for the dressers who provided great model support. To the designers and models who put in a true labour of love THANK YOU!
Also we wish to thank all the staff at Cuisinart Golf Resort & Spa, The General Manager Stephane Zaharia, event coordinators Antoinette and Cassandra, Franklyn, Manager of Italia and Chef Jasper and their kitchen and service staff, ably also supported by the housekeeping staff.
Aurielle from Wrapped in Blue generously donated professional videography and Ivor Hodge kindly provided first class photography services for the event. Emceees Patricia Bygrave and Colwayne Pickering did a fabulous job hosting the event, complemented by Cuisinart's own Michael Masci for entertainment and DJ support.
Special thanks to Anguilla's finest, the Royal Anguilla Police Force and the Fire Department with special mention of Deputy Commissioner Elliott Forbes and Officer Carlisle Lake for providing support for our Grand finale performance.."Macho Man".
Runway Anguilla is grateful for the strong support it has received from the general public and corporate sector in the staging of this event and looks forward to disbursing the funds where it would have most impact in enhancing life for the most challenged citizens within our society. Thank you also to the vibrant media who brought a spotlight to the event and the special causes. Special thanks to the loyal viewing audience and first timers who showed hearty appreciation at the event!