The Anguilla Post Office has released a new set of stamps honouring Anguilla's history.
These stamps have photos of various coins from Mexico and Panama with the phrase "Anguilla Liberty Dollar" on top.  In addition to these stamps highlighting Anguilla's 1967 uprising, commemorative coins with James Ronald Webster on one side and Anguilla's coat of arms on the other will be released later this year.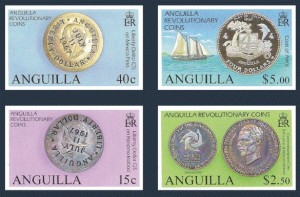 After the jump: Anguilla Post Office's explanation on each coins' meanings…
Liberty Dollar
15c & 40c Denominations
At the height of Anguilla's Revolution in 1967, about 1,000 silver coins from five different countries were counter stamped "Anguilla Liberty Dollar July 11 1967". This bold undertaking of the revolution was accomplished with the assistance of a San Francisco based group who were sympathetic to Anguilla's quest in achieving its autonomy. The coins were sold mainly on the US market to generate funds which would be used to help sustain Anguilla's Revolution. These coins included three different denominations from Mexico and one each from Yemen, Panama, Peru and the Philippines.
Commemorative Coins
$2.50 Denomination
The Anguilla Revolutionary Government in celebration of its first anniversary of  independence from St. Kitts issued a set of commemorative coins in gold silver and platinum dated 11 July 1968. The coins which ranged in values of EC$25.00, $200.00 and $1,500 exhibited a portrait of James Ronald Webster on the obverse and the three dolphins which adorns the Anguilla flag on the reverse.
$5.00 Denomination
The coin on this stamp features Anguilla's court of arms. This rare piece minted in 1970 depicts the Mahogany Tree (a historic landmark in the island's centre) which denotes strength and endurance as well as the centre of commercial activity. The dolphin rising from the sea symbolizes friendship, intelligence, and endurance. The shell surmounting the shield represents the island's beaches and the cannon its history. The rising sun is the dawn of a new era; fruits represent harvest, fish the abundance of the sea and flowers the island's beauty. Appropriately featured in the background is a locally built trading sloop which symbolizes Anguillans' prowess in the craft of boat building and their long history of maritime trading.