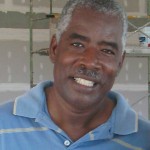 For 10 years, Quincy Gumbs has poured profits from his successful Anguillian businesses (Fair Play Group of Companies) into the building of his passion…
The Royale Caribbean Resort will be a state-of-the-art convention center with 80 rooms, a spa, and other amenities.
Phase 1 of this important new business for the island, Anguilla conventions, was nearing completion when it was announced (September 16) that Mr. Gumbs had borrowed US$65,000,000 from a Canadian investment group.
The money will finance the completion of Phase 1, as well as the purchase of additional land and the building of another 94 rooms (Phase 2).
The money, of course, is not only a shot in the economic arm for Anguilla in the short-term, but brings an entirely new business, Anguilla trade shows and conferences, in the long run. When completed, the facility will be one of the largest and best in the Caribbean, attracting an entirely new category of visitor.
It speaks to the passion and energy of a man to be able to secure US$65,000,000 in this economic environment, on his own.
There are many men in this world with a a dream.
There are few who act on it.
And then there is Quincy Gumbs, Anguillian entrepreneur extraordinaire, who after 10 years of building his passion, has just shown us all what a single man with a dream and sweat equity can achieve.