The Anguilla's Jammin' team is happy to announce our new 3 Jar Gift Pack! With the same design as our popular 5 Jar Gift Pack, the 3 pack is a smaller more economical option for fans of AJ's amazing flavors.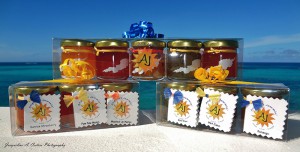 From holiday gift giving to bringing a piece of Anguilla home to that special someone, the 3 Jar Gift Pack is a great option. They fit perfectly in your carry-on bag and are sure to delight.
Looking for wedding favors or goodies for your corporate event? The 3 Jar Gift Pack is a great opportunity to share the flavors of Anguilla with your guests. Don't forget we can provide you with custom tags for your special event.
Bring the vibrant flavors of Anguilla home with you!