It is no secret that the arrival in 2015 of an American Flamingo on Anguilla's wetlands has sparked a great deal of interest in birdwatching here.
In 2016, young Miya Yoshida, a long time friend of Nature Explorers Anguilla, wrote a story about the visiting flamingo. Although Miya was never lucky enough to see the actual bird during her 2015 visit, she weaves an intriguing tale of its unlikely journey to the island and the ultimate decision to make Anguilla home.
What started out as a school project for Miya, ultimately became a collaborative effort with Jackie Cestero, Owner and Operator of Nature Explorers Anguilla, who used the actual photographs of Martin and his friends, to illustrate the story.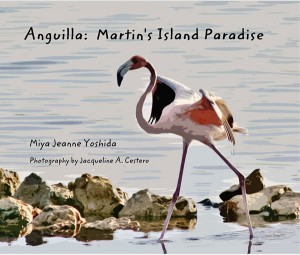 Miya and her family have decided that a portion of the proceeds of the book will go toward the "Bring Back the Buttonwoods Campaign" spearheaded by Nature Explorers Anguilla as an effort to restore Anguilla's mangroves hard hit by Hurricane Irma. Miya will continue to support AARF independent of this project.
The book will be available for order online at blurb.com and hard copies are expected to hit the shelves on Anguilla mid June 2018.
Way to go Miya! Jackie, we can't wait for Martin's Island Paradise to hit shelves 🙂