Just when you thought it was wasn't possible, the five-star restaurant at Malliouhana has outdone themselves yet again.
This past Friday night Executive Chef Jeremy Bearman teamed up with Executive Chef of sister property Auberge du Soleil, Robert Curry.
A culinary celebration of Anguilla, it was a farm to table dinner that honored the hard work that goes into farming in Anguilla… the hard work that allows the island's chefs to do what would otherwise be impossible: create outstanding cuisine with fresh ingredients.
The evening started as the sun began to sink low in the sky, out on the breezy terrace overlooking none other than Meads Bay.
Fresh watermelon and guava cocktails…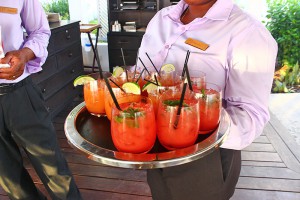 Along with a variety of canapés, including…
Pate foie blond
Local conch beignets
Crayfish and wakame tartlet
Jerk spiced pork belly (between Johnny cakes!)
Saltfish fritters
Gaudaloupe melon topped with homemade burrata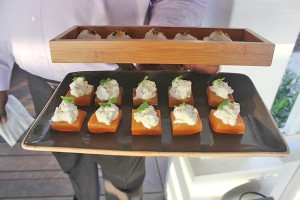 This was just the beginning and the Chefs impressed right from the very start.
At twilight, beneath a bed of stars, Chefs Robert Curry and Jeremy Bearman set the stage, introducing the evening's menu.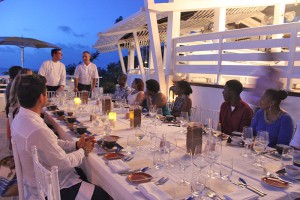 To start, chilled pea soup with crayfish, pancetta, tarragon and a drizzle of rye with a watermelon and spiny lobster salad. Topped with yuzu, the Asian flavors gently complemented the fresh chunks of lobster.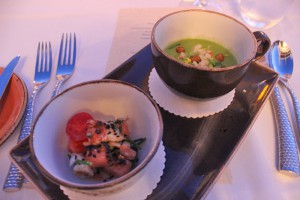 And then, out came the Johnny cakes…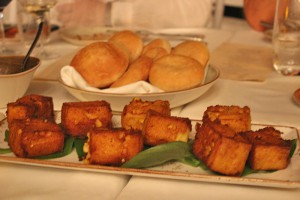 "No meal in Anguilla is complete without Johnny cakes, of course," Chef Jeremy Bearman laughed as the fluffy cakes were placed on the immaculately set table.
What followed?
Lamb ribeye encrusted with Moroccan spices, served with a smoked tropical fruit chutney, all smoked in-house.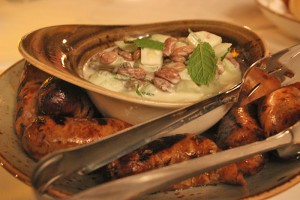 Homemade goat Merguez and a Greek yogurt-based salad, mixed with fresh cucumber, mint and sugar beans. The cool yogurt lent a refreshing contrast to the spicier Merguez.
Braised callaloo, combined with saltfish, onion and even spinach as a side dish.
Chef Robert Curry here remarked on the impressive spinach grown in Anguilla, the leaves of which are far bigger here on-island and sweeter, too.
Even fungi was on that evening's menu. Sweet cornmeal on the inside, gently fried on the outside, it was unexpectedly and exceptionally light and crisp.
Finally, Anguilla's national dish…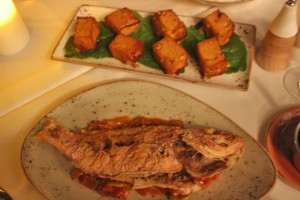 Snapper with rice and peas.
Always with a creative twist, the snapper was served crispy, with tomato, peppers and onions. The rice and peas? Mixed with local bok choy and kimchi, providing a hint of Asian inspiration to the dish.
The tremendous meal was accented by Sommelier, Mr. Albert Lake's two beautiful 2013 Napa Valley wines.
Rutherford Ranch Chardonnay
Rutherford Ranch Cabernet Sauvignon
No attention to detail was spared in creating the final course of the night, dessert.
Moist and light, Tres Leches cake was bathed in a bush tea milk (a staple here in Anguilla), topped with coconut and served with a cocoa stick sorbet.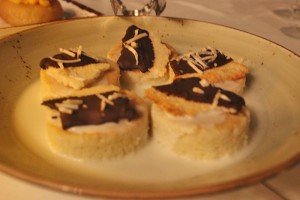 Last, but certainly not least, a Rum Baba, filled with sweet banana cream and Pyrat rum, topped with local tropical fruits. It, too, had an accompanying sorbet, a chile sorbet.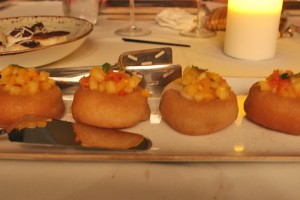 A beautiful showcase of precisely what the team at the Restaurant at Malliouhana is capable of, one thing is for sure…
The dining experience is second to none.
It was another night for the books at The Restaurant at Malliouhana. Many thanks to Chefs Jeremy Bearman and Robert Curry, Sommelier Albert Lake and the team that makes it all possible.
To make a reservation for dinner, call: 264-497-6111