Island Hoops Anguilla Basketball Academy ("IHABA") is holding its "1st Annual Basketball Drillz & Skillz Camp." The camp accommodates three age groups, 8-12, 13-16 and 17-19.
Starting August 29th to September 3rd, the camp runs every Saturday until October 15th and is held at the Adrian T. Hazell Primary School…
The IHABA is making upgrades to the court, including repainting it and adding bleachers. IHABA hopes to finish with 3 FIBA-regulation courts with center court seating for 800. Two training courts will be available for both Anguillians and visitors.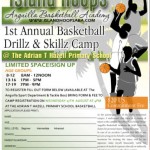 Paul Bell (founder and president) and Maribelle West (project manager) head the board of directors, also comprised of Crepton Gumbs, Jason Hodge, and Latoya Scarbro.
The IHABA's stated mission is to provide the best quality basketball instruction, training and development, year-round to players of all ages and skill levels on the island of Anguilla. This grassroots program hopes to impact the youth using basketball as its platform.
Don Kelbick, well-known American basketball coach, has been helping over this past weekend. Read his impressions here.
More info, including how to register for the camp (it's not too late) and how to volunteer to help this worthy cause, can be found at their website.