Welcome aboard Calypso Charter's sumptuous Sahara…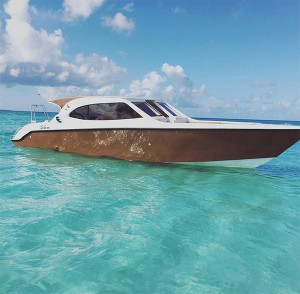 One of the most beautiful boats to grace Anguilla seas, she is your stylish vessel this Anguilla Day, May 30th!
Anguilla Day is one of the biggest celebrations of our island paradise. Marked by a round the island boat race, the best way to take it all in? By following the boat race itself in the sea!
Calypso Charters answers that call with their terrific and festive Anguilla Day party aboard none other than Sahara.
$300/person includes…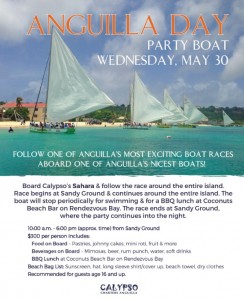 Food on board – pastries, fruit, mini roti, Johnny cakes and more
Beverages on board – mimosas, beer, rum punch, water, soft drinks
BBQ lunch at Coconuts on Rendezvous Bay
The trip leaves Sandy Ground at 10 a.m. and returns at 6 p.m.
(See "beach bag list" above for suggestions on what to bring on board.)
Space is limited and sure to fill up fast! To book, email…