Kyle Hodge, owner of Tropical Treats, is one of the most dedicated and hard working men we know. What started with crafting island-made ice cream and distributing it to local grocery stores has grown into a full ice cream and sweets shop and now, they've expanded once again…
Tropical Treats' Ice Cream Cart Rental, "Creating Excitement & Smiles"
Available for weddings, parties or any event, Tropical Treats can cater to any of your sweet-treat needs!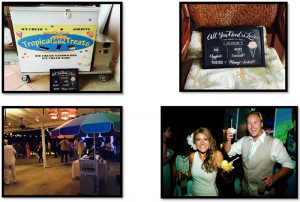 What can their rentals include?
Scooped ice cream and/or sorbets
With 3 flavors of ice cream and/or sorbets you will have a hard time wondering which flavors to choose. Our ice cream is totally premium (rich and creamy) and made daily at our manufacturing plant in Stoney Ground, Anguilla. Flavor customization available.
Sundaes with toppings bar
We will provide you with a toppings station where you can add your own syrup, candy, nuts or chocolate coated candy to your scoop of ice cream.

Hand made ice cream bars and ice cream sandwiches
Ice cream bars made especially for your event from any of our 32 flavors of ice creams or sorbets. Molded at our plant and transported to you where we will put on the finishing touches. We will demonstrate to you how the bars are dipped in warm chocolate and dried within seconds. In addition, various coatings and toppings are available to roll your bars in for that added pleasure.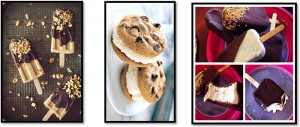 Ice cream sandwiches are available too. Cookie or wafers are baked fresh and are soft and chewy for a great combination with ice cream. Why not dip half of your cookie in our chocolate coating and roll it in sprinkles or chocolate chips?
Freshly baked waffle cones & bowls
We come to your designated site and fill your air with an irresistible aroma of freshly baked waffle cones on the spot. From family parties, to dinners, children parties to socials or just because you want ice cream on a crisp homemade cone. The fresh vanilla or cinnamon aroma will entice your appetite for ice cream or sorbets.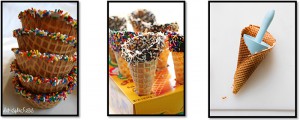 Already, they are getting glowing reviews…
My husband and I used Tropical Treats ice cream in lieu of a traditional wedding cake and it couldn't have been a better experience! Kyle was incredible in working with us to pick the flavors we wanted, and helped us to create a fun post-dinner experience that captured the Caribbean vibe that we wanted to achieve. On top of a high quality product, Kyle's professionalism was the biggest seller for us, and we couldn't have been happier. For couples getting married on the island, I cannot recommend Tropical Treats enough!
— Shannon Kircher, Frangipani Beach Resort
When planning my destination wedding on a secluded Caribbean island, I thought I would have limited options when it came to unique touches. I was thrilled that Tropical Treats proved me wrong. Their delicious homemade ice cream and charming cart was the hit of the evening. After a night of dancing everyone wanted to cool off and it doesn't get any better than Kyle's ice cream and sorbet.
— Eryn and Mark Tillman
To book Tropical Treats for your event, contact Kyle direct at…
Tel.: 264-476-8723
Email: [email protected]