With the fish swimming happily and providing nutrients, the Aquaponic Garden is nicely taking shape. This week the Deep Water Culture bed finally became a reality.
The traditional pieces to make this type of bed were not readily available on the island, so creative thinking once again came into play. Swim noodles were used to float plywood in the water and holes were drilled to hold plastic cups. The cups will hold plants like lettuce, herbs and strawberries allowing the roots to hang down into the nutrient rich water.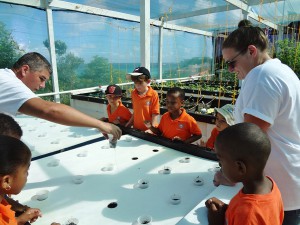 This week students from Ms. Murdoch's Grade 1 class from the Omololu International School were able to see first hand how an Aquaponic Garden works.
The planted seeds that will eventually go into the deep Water Culture bed and planted small tomato seedlings in the Hanging Pot grow beds. They also enjoyed the daily routine of feeding the fish. The Anguilla's Jammin' Team will keep the entire class up to date on the progress of their plantings via our Facebook page https://www.facebook.com/AnguillasJammin
If you would like to learn more about the Aquaponic Garden or Anguilla's Jammin' products, call 1.264.581.2040 or visit our web site: http://anguillasjammin.com/