The Anguilla's Jammin' team is proud to announce its latest flavor, Sunrise Strawberry. With a mix of fresh local mango and the iconic strawberry, we bring you the perfect blend of traditional and mouth watering Caribbean flavors.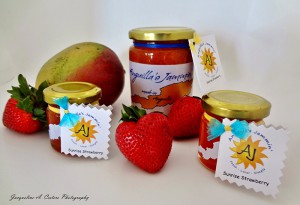 This flavor will be available at gift shops in the coming weeks and you can sample it at our Aquaponic Garden Tours Thursdays at 9:00 am. Anguilla card holders receive a 10% discount on all purchases during the tour.
Call to schedule your tour today 1.264.581.2040.
Fresh Local Simple – Bring the Vibrant Flavors of Anguilla Home With You!