Get ready for Anguilla Red Cross' Second Annual 5K!…
Taking place April 11th 2015 together with Saint James School of Medicine, the Anguilla Red Cross Response Team will be hosting its second annual 5K marathon.
A fun event for a worthwhile cause, all funds raised go directly to transforming an ambulance box with chassis into a mobile, solar-powered mobile First Aid Center. A tremendous benefit for the community, this will allow the Red Cross to attend to emergencies and injuries in a quick, efficient manner.
For more information, see below.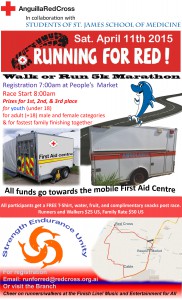 To attend, download this form and bring it with you on Apr. 11…
2015 5K Marathon Registration Form
For any other questions, call Ricky Rouphine, Branch Coordinator, at 497-0406 or 584-3370 or email Julia Gerlitz at [email protected].