Sharpen your skills and get ready for a challenge under the sun this May 20th and 21st…
Anguilla Ninja Warrior at The Aqua Park!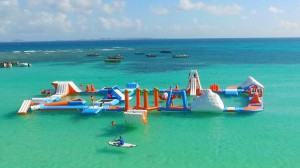 The first event of its kind, with high-value prizes, here are the details…
SINGLE EVENT DETAILS:
A single athlete will do a short sprint around a cone and then swim to the aqua park, do 1 lap, swim back to the beach and run through the finish line.
Single Event PRIZES:
1st Place: 1999 Toyota Vitz; Value $4,500 USD
2nd Place: 8 hours of private kitesurfing lessons & Royal dolphin swim for 2 people.
3rd Place: A year pass at the Aqua Park
RELAY EVENT DETAILS:
Four athletes to a team. 1st person will sprint down the beach and clap the 2nd athlete's hand. The 2nd athlete will swim to the Aqua Park and clap the 3rd athlete's. The 3rd athlete will do one complete lap on the park and clap the 4th athletes hand. The 4th athlete will swim back to the beach, run around the cone and sprint through the finish line.
1st Place: $1,500 USD in cash and 4 one year passes to the Aqua Park. Value $3,900 USD.
2nd Place: 4 hours of kitesurfing lesson for the four winners & a Dolphin Royal swim for 4 winners.
3rd Place: Four 1 year passes for the Aqua Park.
COST TO ENTER THE COMPETITION:
– $100 USD must be paid to enter.
– Includes 4 full day passes to practice at the Aqua Park.
– ONLY $10 for additional full days up until the competition date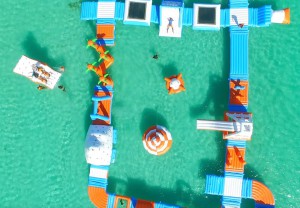 The one question is…
Who is going to be the ultimate ninja warrior?!
For full detail events, visit…