Oh, Palm Grove… where to even begin? Our love affair with this sandy beach shack runs deep.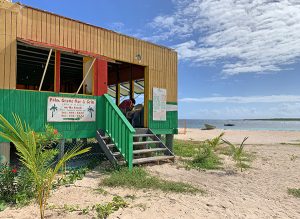 Set on Junk's Hole, Palm Grove (aka Nat's) is an off-the-beaten path gem. Extra-tranquil, this low-key, open air beach bar takes full advantage of its location.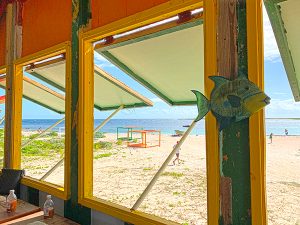 The best way to begin an afternoon at Palm Grove? With Nat's famous rum punch. Fruity and delicious, buyer BEWARE. These tasty drinks pack a punch!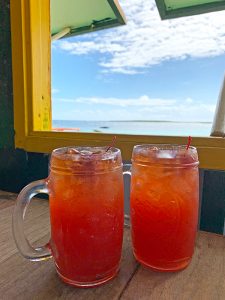 What's for lunch? Crayfish so fresh, you may even see the fisherman hand-deliver your lunch, live. Once in Nat's hand, Nat boils his crayfish to seal in the juices. Then he BBQ's and spices them to perfection.
As Nat approaches with a giant tray of crayfish, our mouths always water…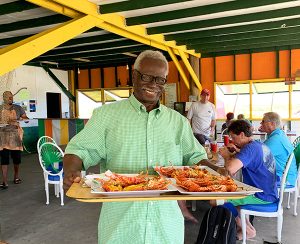 Time after time, year after year, Nat's crayfish go down as our favorite in Anguilla!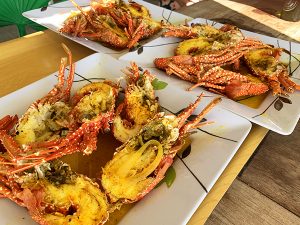 Juicy, loaded with flavor, nothing comes close. Nat serves his crayfish with all of the trimmings, too.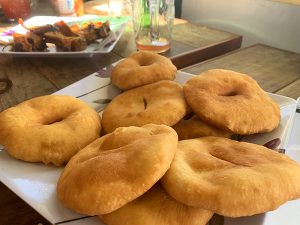 BBQ orders come with coleslaw, hand-cut fries and some of the all time best Johnny cakes in Anguilla. Fluffy and puffy, each bite is heaven!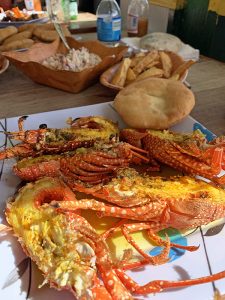 It is a Caribbean feast fit for a king!
The quintessential Anguilla beach bar experience, if you haven't been to Nat's, you haven't been to Anguilla 😉
Nat's is open daily for lunch. Closed Monday.
TIP: To guarantee crayfish, call ahead. Tel.: 264-235-6528