Christmas Day @ Waves: Stop by Meads Bay for a sweet Christmas party of milk, cookies, cocktails and live music by DJ Chu Chu…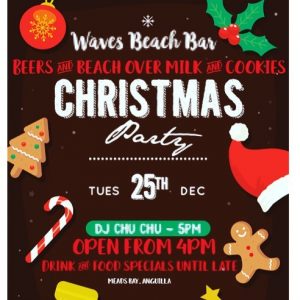 New Years @ Waves: The fun keeps going on New Years Eve with Waves' blow out party of the year!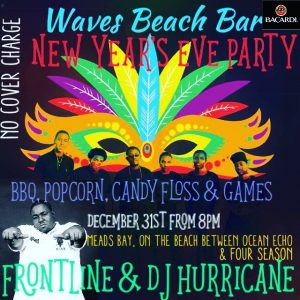 Christmas @ Roys: Roy's will be open Christmas day from 5pm. In addition to their full menu they will also be serving a traditional Christmas dinner. Please call 1-246-497-2470 to make your reservation.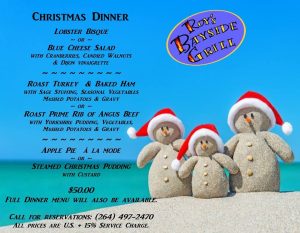 New Years @ da'Vida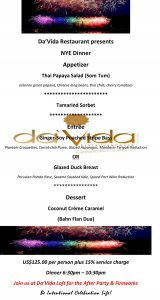 Christmas Morning @ The Place: Breakfast with Santa!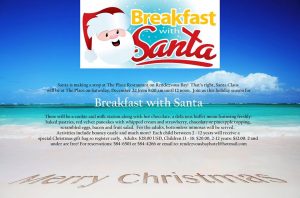 New Years @ The Place: Celebrate under the stars at The Place Restaurant Anguilla for the Rendezvous Bay Countdown 2019 where you can ring in the New Year in style on beautiful Rendezvous Bay Anguilla. The Place Restaurant is the perfect spot to see the midnight fireworks on Rendezvous Bay as well as the nearby island of St. Martin/St. Maarten. Our Executive Chef Leonard "Smoke" Sharplis' menu will feature Lobster, Prime Rib of Beef, Fresh Fish and delicious appetizers. The dinner will end with an elegant array of fruity and chocolate desserts. Dinner service begins at 7:30 PM until 10:00 PM.
Or you can join us for our after-hours dinner party from 10:00 PM until 2:00 AM with live party music from the top Anguilla band, The Musical Brothers. You'll be treated to a special champagne toast, noisemakers and hats round off the fun.
The Place is where you can give 2019 a fun and delicious welcome.
Dinner Availability: 7:00 PM – 10:00 PM – Including Open Bar
After-Dinner Availability: 10:00 PM – 2:00 AM Featuring an Open Bar
— What's on the Menu? —
Caribbean basket of freshly made dinner rolls and breads
Cranberry-Walnut, Butter, Whole Wheat-Oatmeal
AMUSE-BOUCHE
Lobster fritter with tender leeks and saffron sauce
*
Creole Pumpkin Soup
(Served tableside)
ON THE BUFFET
Baby Island mixed greens with julienne of grilled vegetables and honey-mustard dressing
Sautéed filet of mahi-mahi with lemon-mint sauce
Roasted prime rib with sweet onion gravy
Chicken Provincial with candied pineapple
Lobster tempura with roast garlic cream sauce
SIDES
Scallop potato
Island mixed vegetables
Penne primavera with fresh basil and tomato coulis
DESSERT GRANDE BUFFET
Assortment of freshly-made fruit tartes, pies and chocolate desserts
Price: $150.00 per person including service charge, $70.00 per person children ages 4-12 years. A children's menu will be available. For reservations: 264-584-4266, 584-6501 or email at: [email protected]