Nevaeh
One does not have to look hard to see that Nevaeh Villa is a blissful slice of heavenly paradise…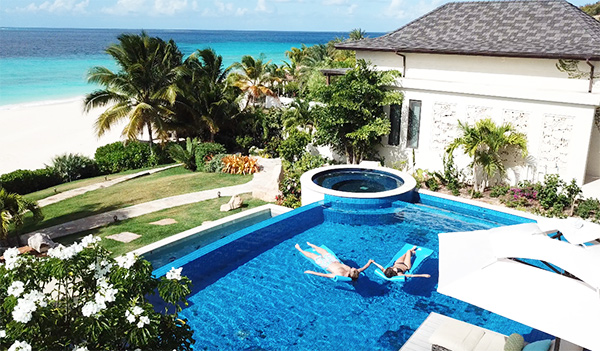 Nevaeh Villa tiers down the hill that surrounds Long Bay. The property is made up of eight bedrooms. The upper pavilion offers sweeping views of Long Bay blue and the main house sits right on the beach's smooth, sandy shores.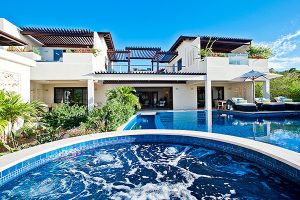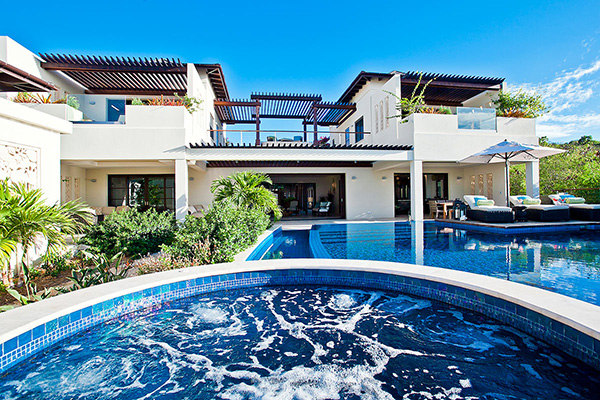 This month, book a 5 night stay or longer at Nevaeh Villa in June and enjoy daily complimentary wellness activities. Guests may choose from the following options:
60 minutes massage for two, pool exercise class (up to 6 guests)
Beach workout session (up to 8 guests)
Meditation class (up to 10 guests)
Vinyasa yoga class (up to 10 guests)
Cardio tennis work out (up to 5 guests)
Tennis lesson (1 or 2 guests)
Personal training in the gym (1 or 2 guests)
Offer is applicable to new bookings made under the "Heavenly Rate package. " Some restrictions apply. For more information please email [email protected] or call 1-264-476-3773.
Spyglass Hill Villa
Anguilla's Spyglass Hill Villa is one that has been seen around the world! Featured on House Hunters International, this villa is known for its Caribbean interior design, and its sweeping views of Sandy Ground.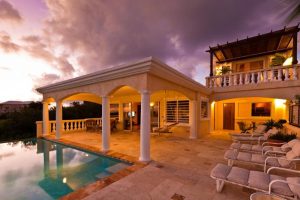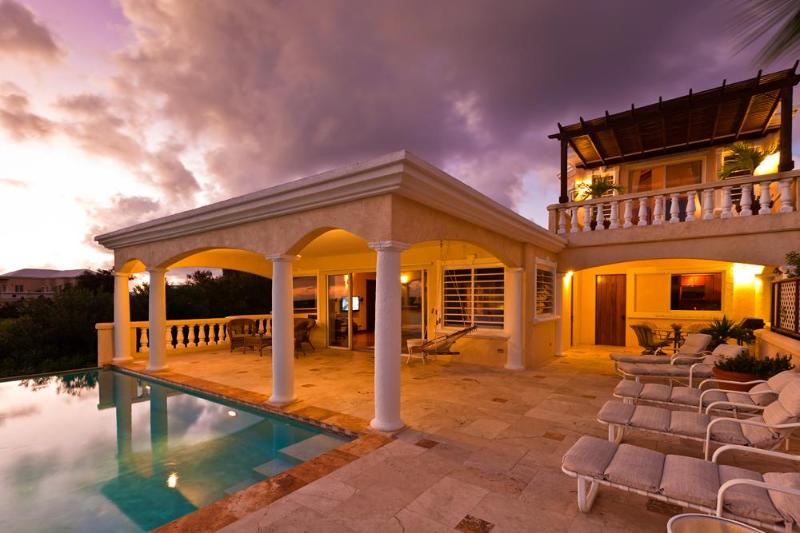 A four-bedroom villa with spacious rooms, this villa blends Caribbean warmth with modern design and finishings. Designed and furnished with distinctly fine tastes, it's no surprise that this home is an Ian "Sugar George" Edwards design, an award-winning architect based here in Anguilla.
This summer, Spyglass is offering the following special…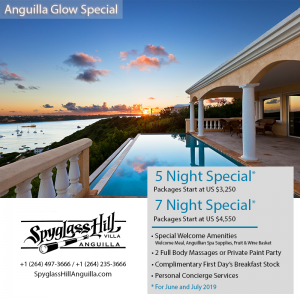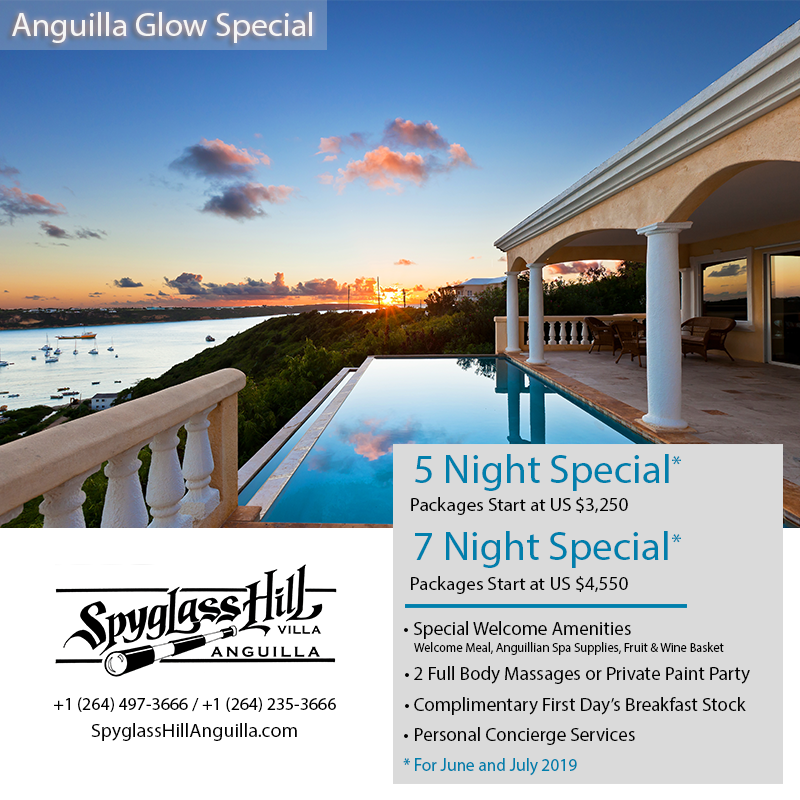 For more on rates at Spyglass Hill Villa, visit…
http://spyglasshillanguilla.com/rates-amenities/
Little Butterfly
A one bedroom luxury villa set in Little Harbour, Little Butterfly offers all of the comforts of "home" in a tropical setting.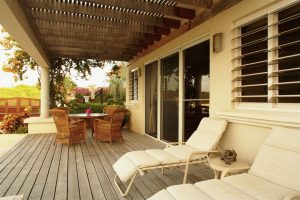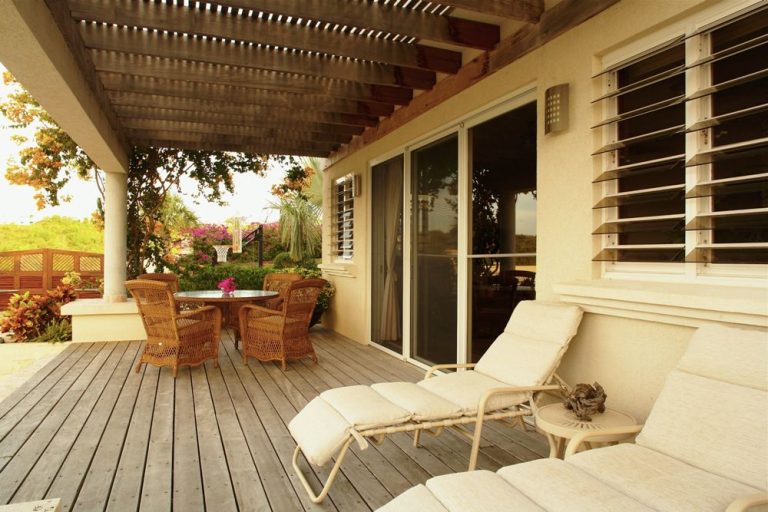 Inside, the villa is spacious and clean, with contemporary and high-end finishings. Set in a peaceful garden overlooking St. Martin and the Caribbean Sea, the location takes advantage of its exotic locale, being conveniently located. Here, you're only a short drive to the island's top beaches and restaurants.
This summer, Little Butterfly is offering the following special…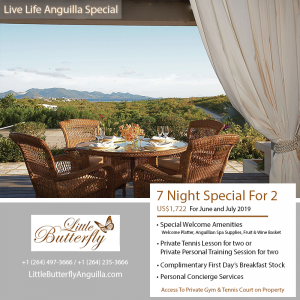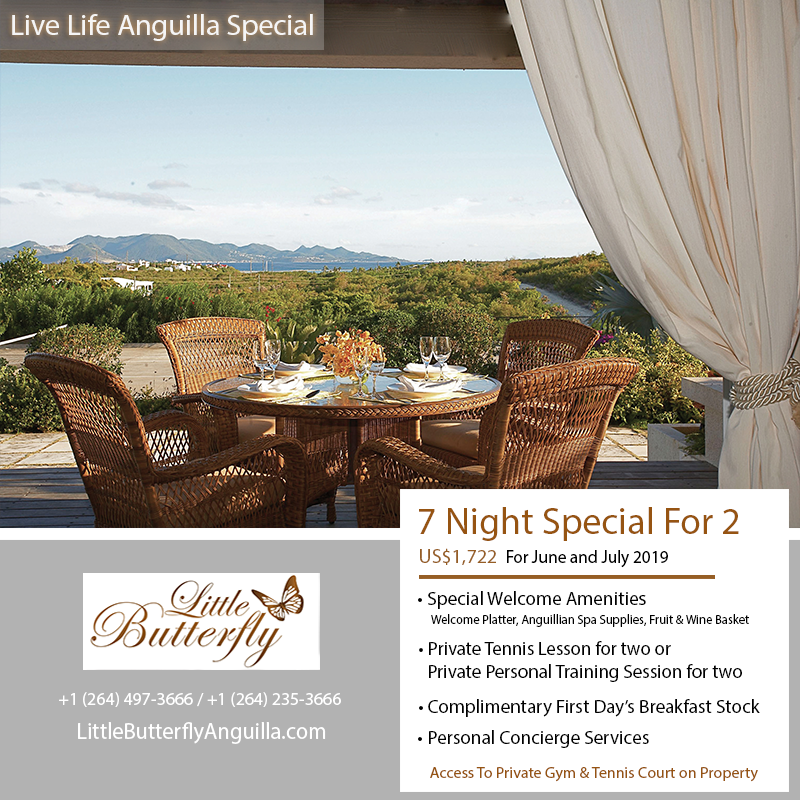 If you're seeking that feeling of "home" in the Caribbean at a very reasonable rate, look no further than Little Butterfly.
For rates at Little Butterfly, visit…