Anguilla Watersports has once again added to its collection of first-class service offerings with The Scrub Island Ultimate Hiking Excursion, a one day hiking adventure that will leave guests with memories of a lifetime.
The one day Ultimate Hiking Excursion is guided by first aid certified Guides and is the only hike of it's kind in the area.
The adventure begins at the peer in Island Harbour, Anguilla at 7:45am. Guests board the boat and take a short scenic 20 minute boat ride over to the Western side of Scrub Island. Guests are dropped off at a beautiful beach with their Guide and the adventure begins shortly after.
The Guide takes memorable photos and videos during the adventure that are later shared with the Guests. Guests learn about the island, observe wildlife, visit a famous crashed airplane, snorkel with turtles, fish and stingray, swim in emerald glowing lagoons and much more. Guests then return back to the beach at Scrub at approximately 2:30pm for the boat ride back to Island Harbour.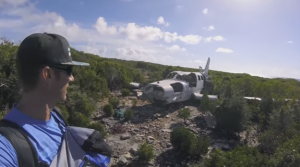 For the full experience, watch this video…
Lunch, snacks, water and juice are included as part of the hike and carried by the Guide.
The Ultimate Hiking Excursion is available to guests who are 12 years and older. Rates are $250 per person and all-inclusive. The adventure starts at 7:45am in Island Harbour and wraps up at around 3:00pm in Island Harbour.
To book call: (264) 584-1204
Or, visit…