Owned and operated by one of Anguilla's most revered chefs, Chef Dale Carty is simply one of the best. His loyally loved restaurant, Tasty's has long been a favorite for high-end cuisine that emphasizes Caribbean flavors.
For a satisfying lunch bite, Tasty's is a go-to.
Lunch begins with a complimentary basket of these warm delights…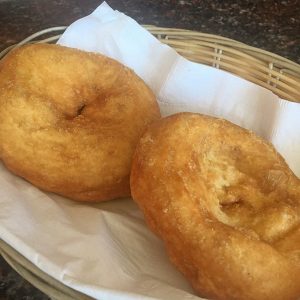 Tasty's is known for having what may be THE best Johnny cakes on-island! Plump and fluffy, one basket is rarely enough (we always order a second one – they are THAT good!).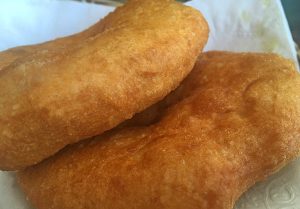 For lunch dishes, Tasty's offers a variety of extra-fresh salads and entrees. Tasty's Seafood Salad is a classic…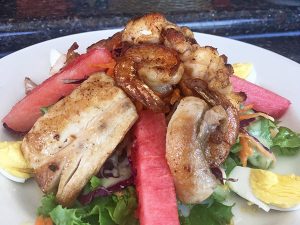 A bed of fresh salad is tossed with a tangy dressing, and loaded with pieces of conch, snapper and shrimp (seafood varies with what is most fresh that day). Light and full of protein, it's an excellent, healthy choice.
A more robust lunch pick is Chef Dale's "Fish N Chips Local Style." Catch of the day is grilled to perfection, with peppers and onions. Salad and fries on the side.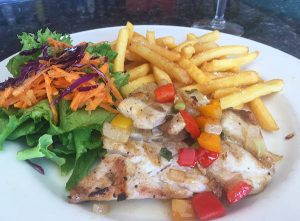 With excellent service, Chef Dale and his team always gets it right!
Tasty's is open for lunch and dinner daily (closed Thursdays). Breakfast is served Sunday mornings.