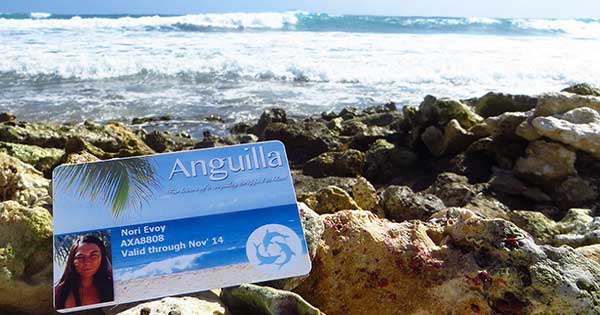 Anguilla Beaches recently launched a clever product for those planning a trip Anguilla, a discount card that gets you 10% off at all "Participating Partners."  That includes…
hotels such as the award-winning Paradise Cove and best-value beachfront Carimar and Great House
villas, also a solid collection to choose from (ex., Tequila Sunrise, Sheriva Tortue, and the immense Ultimacy Villa)
an outstanding selection of restaurants (AXA Seafood House, all restaurants at CuisinArt Golf Resort & Spa, da'Vida, Mango's, Palm Grove (and several others)
You can even catch a ferry over from SXM (Link) fly in from San Juan (Tradewind), and then rent a car (Island Car) to explore.
All at 10% off.
Aside from "eat-sleep-go," The Anguilla Card also covers activities such as Shoal Bay Scuba, Viceroy's Spa and (of course!) shopping at places such as SeaSpray Boutique, Cheddie's Carving Studio and ZaZAA Boutique.
The Origins of The Card
Catching up with the busy owner of Anguilla-Beaches.com, Nori Evoy, we asked her where the idea came from…
"I was emailing with a reader of my e-zine. She happened to say, 'You know, I'd visit Anguilla if it wasn't so expensive.' Well, a lightbulb lit up."
"Anguilla is known as a high-end destination and it is, of course. Many of the world's rich and famous spend upwards of $10,000 and more per night to stay here. It's the ultimate Caribbean destination."
Warming up to the subject, she continued, "But there are also many mid-priced hotels and restaurants, as well as loads of free and inexpensive things to do on Anguilla. And really, even the wealthy enjoy a discount."
"So, I thought, why not a simple, classy discount program for Anguilla? No free-drink come-ons, just a straight 10% discount across the board. Even the card itself is classy. Cardholders have told me they love holding it, and love using it even more."
Strong Reception
Nori's website is the most visited website on Anguilla. She also has the most followed and engaged Facebook page, not to mention strong social presence at Twitter, Instagram, Pinterest, Google Plus and Youtube.
So when she approached potential Partners in Anguilla, they loved the concept. Nori notes that, "The whole idea of the Card is that Anguilla itself, our Partners and, of course, the customer must all profit from The Anguilla Card."
That seems to be how it's working out, too…
Cardholders love the discount, naturally.
Partners are receiving free publicity and new customers, card in hand.
And she has already received two emails from people who subscribe to her e-zine saying that the savings, which can amount to hundreds of dollars, were enough to hit the tipping point of choosing Anguilla over other destinations!
"I get most excited when I hear that someone chose Anguilla" because of the savings due to the Card."
With a new phrase coming to Anguilla, "Do you accept The Anguilla Card," this is one idea that looks like it's just getting started, here to stay and grow. Sure enough, Nori confirms that "it's just the beginning."
She adds partners regularly, carefully diversifying so that there are never too many in any one category, which the Partners appreciate. She adds, "Each category has a limit and most have already reached it. But there are still more categories to add, lots of activities for visitors to do."
"The goal is to add a Partner every week or two, until you can do just about anything with 10% off."
What's Coming?
"I'm most excited about a new program that I'm working on, one that will be exclusively for cardholders."
She demurred when asked to reveal what that was going to be, but did add that it's something that is not currently available in Anguilla. We could see that she wanted to give it away, but we let this irrepressible young woman off the hook so she could keep the surprise.
Having started Anguilla Beaches when she was only 14 years old, we asked her for her observations on the island, now that she has reached the ripe old age of 25…
"Times are tougher for many Anguillians since the Recession hit in late 2008. There are some positive signs, though, signs that 2014 just may be a comeback year. My goal for Anguilla Beaches remains the same as ever…"
"Tell the world about our favorite spot in the world, which is now also our home. I'm not in school anymore, so I have much more time, and 2 people who help part-time."
"I want to grow Anguilla's presence online and help to bring more delighted visitors to this super-special place than ever. Our entire economy depends on tourism, so the more people who arrive, the better off many of our friends are."
"We've released a really cool page and an accompanying app at calm.anguilla-beaches.com, have another app in the works and a really big development that I hope to launch by February."
Right now, though, her main focus is on growing "The Card." At only $49, it's sure to save much more than its price. Actually, she guarantees it.
Anguilla has a dynamo in its corner.
You can get more information about Anguilla's discount card here.