Online Registration is now available for the Anguilla Tennis Academy 2019 Summer Camp.
The Anguilla Tennis Academy (ATA) encourages young children between the ages of three (3) and seventeen (17) to participate in its 24th annual 2019 Summer Camp. The 2019 ATA Summer camp is being organized by Mr. Chris Wade, Director of Athletics at T Bar M Racquet Club, Mr. Tristin Rogers, ATA Program Director and Mr. Mitchelle Lake, Founder and President of the ATA.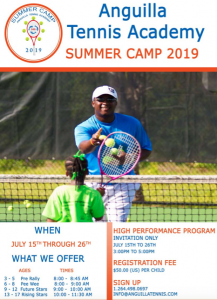 The 2019 Summer camp will commence on Monday, July 15th 2019 and culminate on Friday, July 26th 2019. During the second week of the camp, international coaches and college players will be on hand to impart their skills and knowledge with your children. Participants will also have the opportunity to win prizes and witness some exhibition tennis matches. Each camp participant will also receive an official 2019 ATA Summer camp T-shirt. The cost per child for the two week summer camp is US$50.00.
For more information, contact [email protected] or phone at 476-1254 or 498-0697.
*Gentle reminder that the deadline for registration and payment, is Monday, July 8th 2019*