Experience Beautiful Scilly Cay OR Roundtrip St. Maarten Boat Transfer FREE With Tequila Sunrise Villa's Summer Special
Tequila Sunrise Villa's specials always WOW.
This summer, for all new bookings, they are offering your choice of…
FREE day at idyllic Scilly Cay, one of Anguilla's top offshore cays. Famous for its rum punch, killer BBQ eats and good vibes, Scilly Cay is a "must" on any trip to Anguilla. And on this visit, it's included 🙂
– OR –
Your boat transfer from St. Maarten to Anguilla is included free! Round-trip!
For more info, visit Tequila Sunrise Villa.
Every 6th Night Free at Spyglass Hill in Celebration of Anguilla's 50th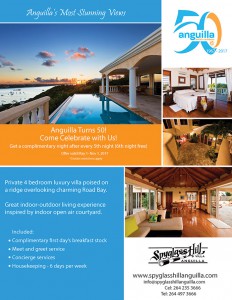 For more, visit Spyglass Hill Villa here.
Save 50% on Your Car Rental with Affordable & Luxurious Rental, Little Butterfly's Special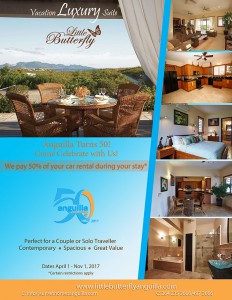 More on Little Butterfly here.
Twin Palms Villas' Exceptional Summer Packages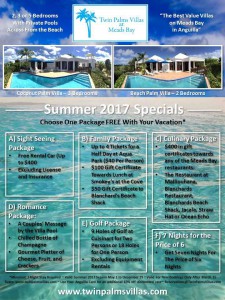 More on Twin Palms Villas here.
Covecastles' Beach House Summer Special – Just $395/Night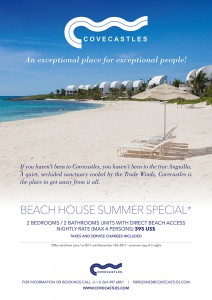 A Free Night at Anacaona Boutique Hotel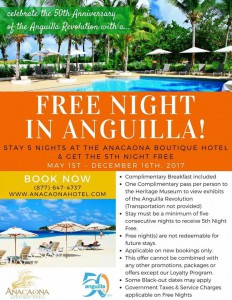 Sheriva's Sumptuous Anniversary Special
A hidden gem in the Caribbean's British West Indies, Sheriva Luxury Villas & Suites is celebrating a decade of service with its current Anniversary Promotion.
Guests staying a minimum of 6 nights in a 4-bedroom villa receive a complimentary four-course private chefs dinner, including wine and with culinary highlights like Panko Crusted Seafood Cake and Pan Seared Anguillian Snapper.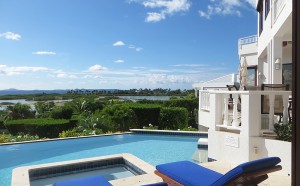 Originally from Jamaica, Sheriva's chef Sherry Ann learned the art of "cooking with love" from her grandparents. As a resident of Anguilla for the past 18 years, Chef Sherry Ann has been a celebrated private chef, working with the many celebrity guests who frequent the island.
Chef magically blends island cuisine with traditional continental favorites. She has been a part of the Sheriva team for the past eight years and often jazzes up the private dining menu with true home-style Caribbean flavors, using organic, locally grown and caught ingredients.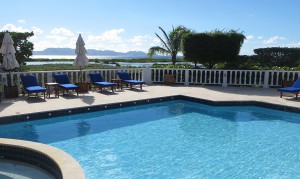 Bookings must be made by August 1, 2017 with stays applicable from now through August 15, 2018. Blackout dates include December 19-January 4. Resort rates start at $2800/night for three-bedrooms. Tax and service fee is additional.
For reservations and information, call 954-237-5713, email [email protected] or visit www.villasatsheriva.com