Roy's has re-opened and we couldn't be happier!
Their steak kebab is our go-to menu favorite. Skewered and char-grilled to perfection, sizable chunks of Angus beef are lined up with thick slices of onion, red pepper and mushrooms.
The dish is served with your choice of vegetables/salad and hand-cut fries.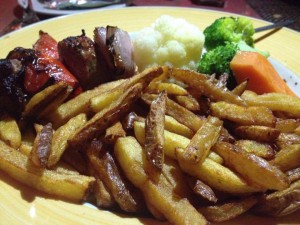 Reasonably priced, and with a basket of Johnny cakes to start the meal off, the food never fails to delight at Roy's.
And, owners Mandy, Roy, Claire and Patrick always make you feel right at home 🙂
To make a reservation, call: 264-497-2470