School's out and summer camp time is here! Exciting news from Anguilla Tennis Academy…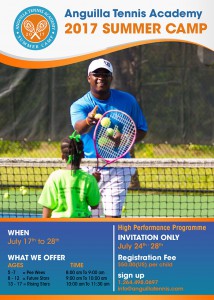 Online registration for the 2017 Summer Camp is now up! To register, complete the form online here…
http://www.anguillatennis.com/pages/academy_summer-reg
Once you have signed up online, the following must be completed…
– Sign summer camp waiver form
– Sign summer camp photo policy
– Pay registration fee of US$50.00 (the cost to participate in the camp is US$50.00 whether you are participating for one or two weeks).
Forms can be obtained from [email protected]
Applications & payment can be submitted at either the Anguilla Tennis Academy or Fleming Lake Group Office.
Deadline for registration is Monday, July 10th 2017. Please register your child(ren) early for this year's camp, as no late applications will be accepted!
This year's camp will be directed by Mr. Mitchelle Lake and Mr. Chris Wade. International Tennis Coaches and players will be on hand for the second week of the camp.
Here's to a happy summer of tennis at the Anguilla Tennis Academy!