Starting THIS week, Covecastles Restaurant will be open Thursday and Saturday evenings!
From 6-10pm, drop by to indulge in their pizza-centric dinner special. It includes 1 pizza, 1 drink, 1 side salad and 1 dessert. (See below for full details.)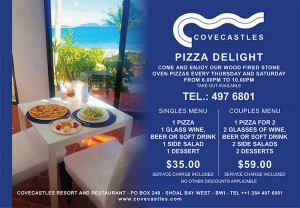 One of the best pizza pies in Anguilla…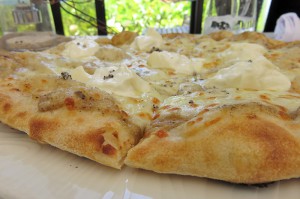 … Covecastles' pizza is a slightly thicker crusted Bronx-style pizza, made with a low yeast, long rise sourdough. It takes 36 hours to ferment before being baked at 700 degrees in the restaurant's Forno Bravo wood fire oven. The pizza itself comes out with a perfect amount of chew and a rich wood-oven flavor.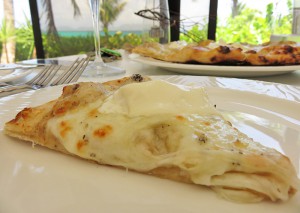 What are the pizza options?
Ham & Pepperoni – House-cured ham, pepperoni, tomato, mozzarella
Carbonara – Pancetta, bacon, serano ham, sunny side up egg
Bianca – Truffle fromage, pecorino pepato, mozzarella, ricotta, roasted garlic
Classic Margherita – house-cured tomato, mozzarella, basil
Spicy Crayfish Diablo – local tomato, mozzarella, basil
A slice of heaven, I cannot recommend the Bianca pizza highly enough!
For reservations at Covecastles, call: 264-497-6801