Every year guests go back to Sandy Island, eager to see what is new for the season. New services, new amenities & new menu items are always met with great satisfaction. 2017 will be no different.
In addition to the fabulous menu and now signature orange umbrellas and beach beds, the tiny spit of sand in the middle of the ocean now offers the following new products, services and entertainment…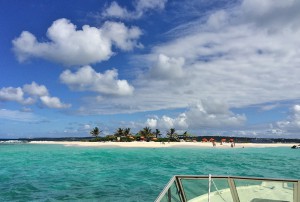 Sandy Passion
A new cocktail concoction dreamed up by the island's new award winning bartender Jamal Hodge. The drink fuses bacardi rum, cointreau, passion fruit liquer, passion fruit juice and freshly squeezed lime to create an elixir that goes down passionately.
Veuve Cliquot Rich and Veuve Cliquot Rosé
In addition to the Brut currently offered on the menu, Sandy Island now offers the Rich and Rosé variety of this iconic champagne brand. Celebrations are always better with Veuve, and perfect when they are held on beautiful Sandy Island!
Electric Fridays
Sandy Island hosted its 1st "Livin in the Sun" Music Festival in November to much acclaim. The island promises to keep the party going on Fridays from 12pm to 3pm with local, regional and international deejays who "spin music that seem to drift on the waves of the ocean and mind".
Acoustic Saturdays
Saturdays in Anguilla just got even better. Take a trip to Sandy Island and enjoy the smooth sounds of Omari Banks and other special guest artists performing live alongside the now famous "Sea Gulls, Wind, and Waves Band" 12pm- 2:30pm.
Sunday Spa Days
Sandy Island now offers you something new to add to your bucket list of luxurious experiences; enjoy a relaxing massage on a beach on a tiny island in the middle of the ocean.