Chef Lowell Hodge has been cooking up a storm!
NEW to his menu? Sharky's lobster stir fry…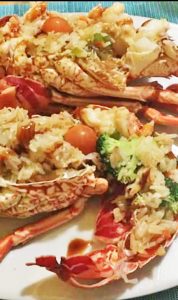 … with local Anguillian lobster, fresh vegetables and rice drizzled with teriyaki glaze. The lobster stir fry is placed back and served in its shell! We can see why this dish has been wowing crowds 🙂
Also new to Sharky's is…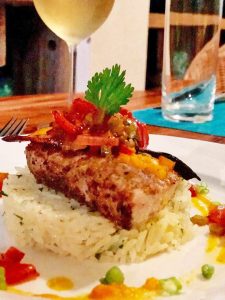 … fresh local caught mahi mahi served with cilantro rice, salsa, plantain chips and drizzled with a carrot and ginger sauce.
Chef Lowell Hodge, our mouths are watering!
One of the best-value dining experiences in Anguilla, to make reservations, call: 264-729-0059. Sharky's is open nightly. Closed Sundays.