Everyone's favorite bar on the shores of Sandy Ground is staying open ALL SEASON! Home to our favorite nachos on the island…
We recently decided to explore the menu a little more. The Fresh Taco Shell Salad jumped out at us. A crispy tortilla bowl, it is filled with your choice of meat and topped with cheese, pico de gallo, sour cream, mixed greens and rice and beans.
We kept it simple and opted for no meat or rice – after all, we were also ordering an entire plate of nachos as well!
The verdict?…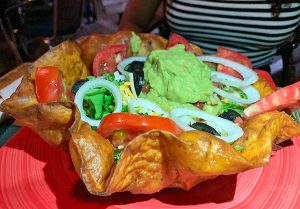 100% delicious! The beans were noteworthy – full of flavor. Piled into a crispy tortilla bowl and topped with guacamole, it all makes for an incredible combination!
The cherry on top? Sitting right on the sands of Sandy Ground with Earthlite singing the night away.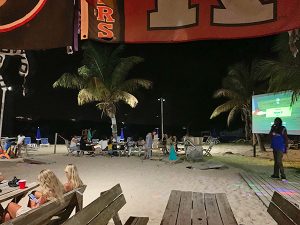 Elvis' has a fantastic line up of events all week long…
4 TV's showing your favorite SPORTS!!!
***LIVE MUSIC WED-SAT NIGHTS!!!!!***
DJ Kue every Wednesday 9-12pm
The Musical Brothers every Thursday 9:30pm-until
RudeBoy Earthlite every Friday 9:00pm-until
DJ KUE every Saturday 9:30pm-until
Fun for the whole family!
Paddle Boat, CornHole, Jenga, Ring&Hook Games, TetherBall, Beach Volley Ball and More!
FREE FAST WiFi
Elvis' is open for lunch, dinner and late night daily.